Cet événement est terminé.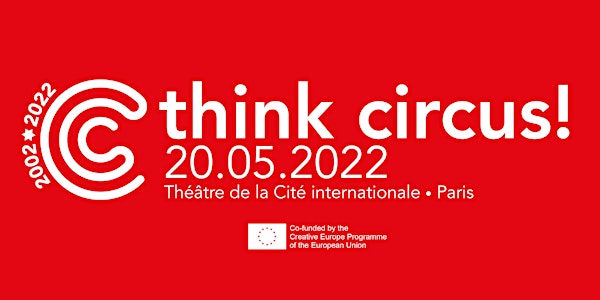 Think Circus! Conference
Dans le cadre de sa Journée des 20 ans, circusnext organise la conférence Think Circus!
Où et quand
Lieu
Théâtre de la Cité Internationale 21 A Boulevard Jourdan 75014 Paris France
À propos de cet évènement
🇫🇷 Dans le cadre de sa Journée des 20 ans, circusnext organise la conférence Think Circus!
Cette conférence réunit des artistes lauréats & shortlistés circusnext, des chercheuses et des professionnels du cirque contemporain pour échanger autour de 3 thématiques.
Ces dialogues seront animés par Agathe Dumont (enseignante-chercheuse) et Guillaume Martinet (jongleur, fondateur de la compagnie Defracto).
👇 Au programme👇
9:30 • Accueil
10:30 • Le corps et ses défis : enjeux physiques et sociaux, soin, kinesthésie • Avec Inbal Ben Haim, Marion Collé & Marion Guyez
13:30 • Du pouvoir aux limites : identités, diversités • Avec Laura Murphy, Camille Paycha & Carolyn Watt
15:15 • Faire et voir le cirque autrement : formats, normes, attentes • Avec Myrto Petrochilou, Darragh McLoughlin & Katharine Kavanagh
17:30 • Apéritif (sur la terrasse de la salle Resserre)
En accès libre toute la journée • Exposition de photographies • Les lauréats circusnext, par Milan Szypura
(les échanges seront bilingues français/anglais, avec traduction en direct • la conférence sera diffusée en live sur Facebook)
Pour continuer la Journée des 20 ans :
19:00 • Alexander Vantournhout - Through the Grapevine
21:00 • Camille Boitel - Fissure
🇪🇺 cofinancé par le programme Europe Créative de l'Union européenne 🇪🇺
---
🇬🇧 circusnext is organizing the Think Circus! Conference at the Théâtre de la Cité internationale!
This conference brings together circusnext laureates & shortlisted artists, researchers and contemporary circus professionals to discuss about 3 themes.
These exchanges will be led by Agathe Dumont (researcher) and Guillaume Martinet (juggler, founder of the Defracto company).
👇 Program👇
9:30am • Welcoming
10:30am • The body and its challenges: physical, social , care and kinesthetic issues • With Inbal Ben Haim, Marion Collé & Marion Guyez
1:30pm • From power to limits: identities, diversity, • With Laura Murphy, Camille Paycha & Carolyn Watt
3:15pm • Doing and seeing the circus differently: formats, norms, expectations • With Myrto Petrochilou, Darragh McLoughlin & Katharine Kavanagh
5:30pm • Aperitif on the terrace
Free access all day • Photography exhibition • circusnext laureates, by Milan Szypura
(dialogues will be in French and English, with live translation • the conference will be broadcast live on Facebook)
To continue circusnext "20 Years" Day :
19:00 • Alexander Vantournhout - Through the Grapevine
21:00 • Camille Boitel - Fissure
🇪🇺 co-funded by the Creative Europe programme of the European Union 🇪🇺