Lieu
IESEG School of Management
Promenade de l'Arche
1,Promenade de l'Arche
92800 Puteaux
France
Description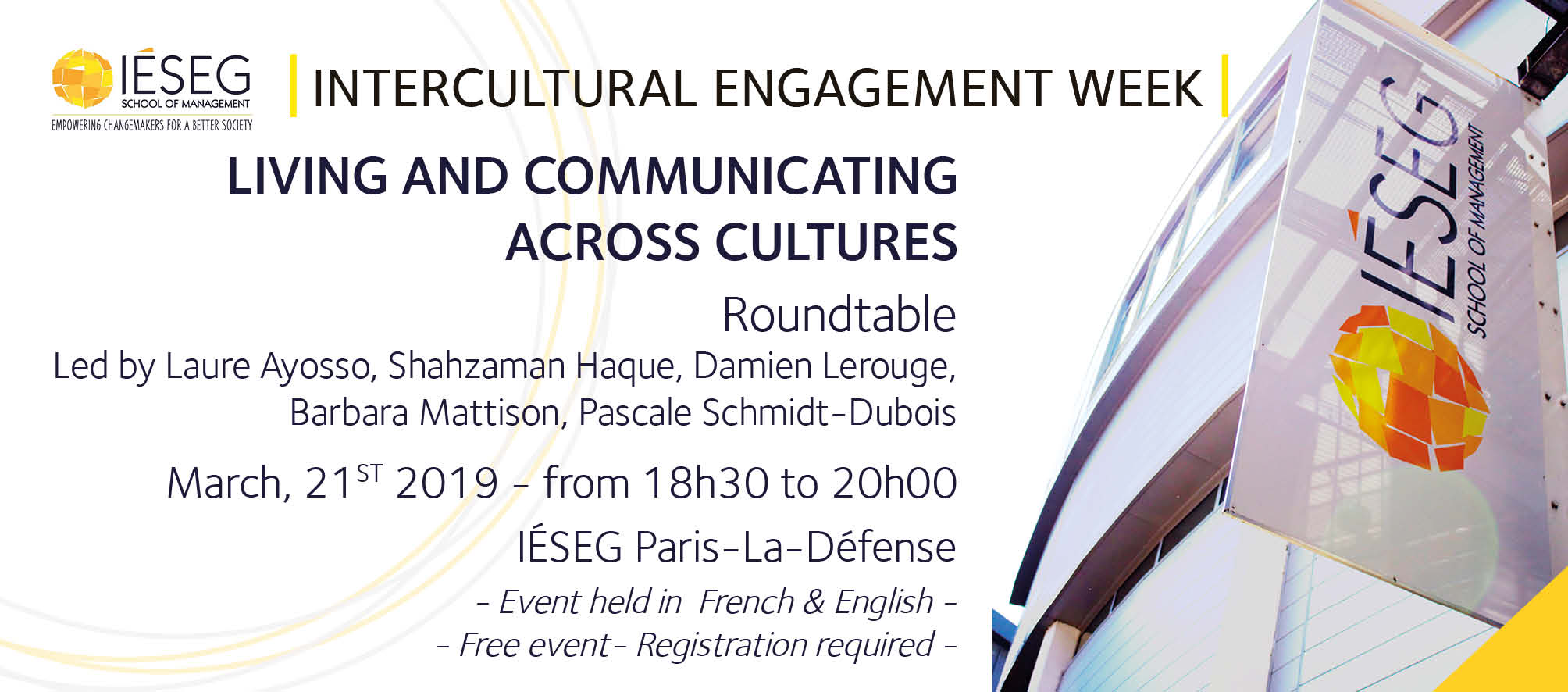 [Event held in French & English]
--
Dear Madam, Dear Sir,
We are pleased to welcome you at IÉSEG for the INTERCULTURAL ENGAGEMENT WEEK which will take place from 18th to 21st Mach 2019 at our Paris-La-Défense Campus.
On this occasion, attend and participate in the Roundtable led by Shahzaman Haque*, Damien Lerouge**, Barbara Mattison***, Pascale Schmidt-Dubois**** and Laure Ayosso***** on the topic:
LIVING AND COMMUNICATIONG ACROSS CULTURES - Thursday 21st March 2019 from 18h30 to 20h00.
This roundtable is designed for all members of IESEG's community who are concerned personally or professionally with the broad issues of moving and managing across cultures and interacting with multilingual people and/or children. The session brings together international mobility experts in an interactive session where members of the audience will have the opportunity of sharing their own experiences and questions in both French and English.
--
* Shahzaman Haque is Deputy Director of the Department of South Asia and the Himalaya, Head of International Relations and lecturer in Urdu at INALCO, Paris. His research concerns language transmission and practices, family language policy and identities.
** Damien Lerouge a former English teacher, is Student Services Coordinator at IÉSEG. He welcomes students from all over the world and helps them deal with French administration. He is a lover of languages and speaks French, English and Spanish fluently.
*** Barbara Mattison works as a consultant, trainer and coach on questions touching upon cultural differences: international teams, remote teams, team-building and international mobility. She acquired her experience in a variety of professional contexts: multinationals and small businesses in France and abroad, the European Commission and its agencies around Europe, hospitals and other public services.
**** Pascale Schmidt-Dubois is a lecturer at Iéseg in intercultural management. Having lived most of her life abroad, she is also a consultant for expatriate families. Her fields of interest include bilinguism, diversity management and pedagogy.
***** Laure Ayosso is a lecturer in French as a foreign language. She obtained her MSc in Applied Linguistics and Second Language Acquisition from Oxford University, UK.
--
We look forward to meeting with you on March 21th,
The IÉSEG Center for Intercultural Engagement team