Cet événement est terminé.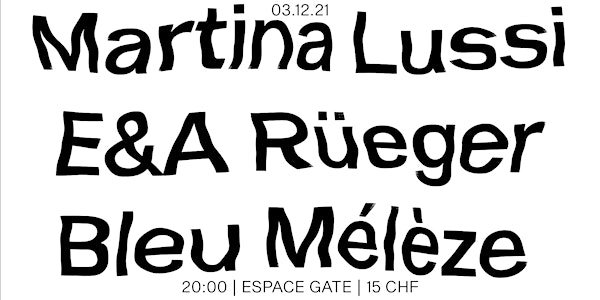 SMEM Listening Session #001 w/ Martina Lussi, E&A Rüeger + Bleu Mélèze
Listening Session #1 in GATE space on the blueFACTORY site.
Où et quand
Lieu
Pass. du Cardinal 1 1 Passage du Cardinal 1700 Fribourg Switzerland
Politique de remboursements
Contactez l'organisateur pour demander un remboursement.
À propos de cet évènement
E&A Rüeger (Fribourg) — The two brothers focus on live performances where machines and synthesizers play a central role. Following a winding path between ambient music, techno and electronic, their compositions are complex, nostalgic and spacious.
Bleu Mélèze (Geneva) — Progressive ambient worthy of a sunset.
Martina Lussi (Lucerne) — Martina Lussi creates musical compositions, presents installations and performs live in various contexts. Her artistic practice is based around the act of listening. Her compositions incorporate fieldrecording, syntesized sounds and voice. Through a variety of sonic material she creates broad soundscapes. Her latest Album "Balance" was released on September 3, 2021 by Präsens Editionen. She holds a Master of Arts in Contemporary Arts Practice and lives and works in Lucerne,Switzerland
Entry: 15 CHF
Door: 20:00
Concerts: 20:30
— Covid certificate obligatory