Cet événement est terminé.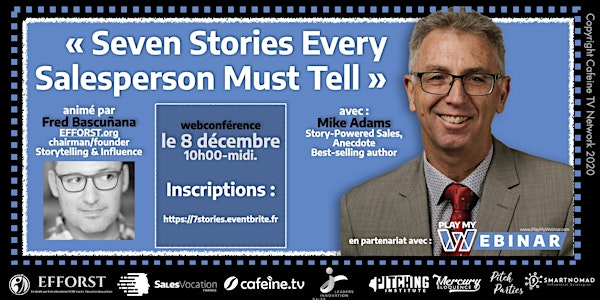 Seven stories every sales people must tell
Web-conférence avec Mike Adams, auteur du best-seller "Seven Stories Every Salesperson Must Tell"
Politique de remboursements
Contactez l'organisateur pour demander un remboursement.
Les frais d'Eventbrite ne sont pas remboursables.
À propos de cet évènement
À propos de cet événement
(un événement EFFORST.org - pour la communauté SILS : #SalesInnovationLeaders )
- en partenariat avec PlayMyWebinar.com (captation+rediffusion) et SalesVocation.com
Mike Adams explains how storytelling provides salespeople with a path to both rational and emotional connection with their clients, to help build trust, make the case for change and support their client's crucial decisions.
With story examples, Mike provides a framework to help you collect and develop your best business stories. And he shows how these stories can be used to support each part of the sales process for any type of sales team.
Target audience: All sales levels and professional services especially sales leadership
[Evénement réservé aux opérationnels (CEO, CXO, CMO, CSO, COO, CDO, Directeurs Commerciaux, Directeur Marketing) et soumis à validation.]
What will attendees take away from the course?
An understanding of what a good business story is and how to construct and deliver one
An appreciation of sales discovery as 'story seeking' and 'story sharing' which leads to a more human approach to client conversations.
Knowledge of the key types of sales story and how to build your company story bank
How to avoid the common pitfalls of sales storytelling
About the presenter, Mike Adams:
Mike Adams is the bestselling author of Seven Stories Every Salesperson Must Tell. Engineer turned salesman, Mike taught himself storytelling 'on the job' while selling and managing sales teams in the UK, USA, Russia, India, China, Vietnam, Indonesia, Malaysia and Australia for international corporations Schlumberger, Siemens, Nokia, Motorola and Halliburton.
Based in Melbourne, Australia, Mike leads the sales storytelling practice at Anecdote, an international business storytelling company that delivers programs in 12 languages and 26 countries.
:::::::::::::::::::::::::::::::::::::::::::::::::::
Si vous n'êtes pas totalement à l'aise avec l'anglais, Frédéric Bascuñana (fondateur de EFFORST) sera là pour traduire et simplifier au besoin.
Questions-réponses en 3ème heure et atmosphère conviviale - comme à notre habitude : "Feel Good Moment" garanti :-)
- EFFORST core team.