La vente des billets est terminée
Les inscriptions sont terminées
Thank you very much! We are looking forward to seeing you!
Informations sur l'événement
Adresse
Hiveworks
7 Rue Geoffroy l'Angevin
75004 Paris
France
La vente des billets est terminée
Les inscriptions sont terminées
Thank you very much! We are looking forward to seeing you!
Description de l'événement
Description
What is this workshop about?
We're bringing together a group of researchers who are interested in reflecting on their craft, learning, and growing together. We will discuss specific challenges in doing the work, map out past project experience, and evaluate skills and career progression.

Join us to:

Gain a new frame & perspective for thinking about what it means to work as a researcher, and where a career can go
Reflect on the nature of our work, identify specific areas worthy of more time & attention
Connect with other researchers, to learn from each others' lessons, perspectives, and approaches to the work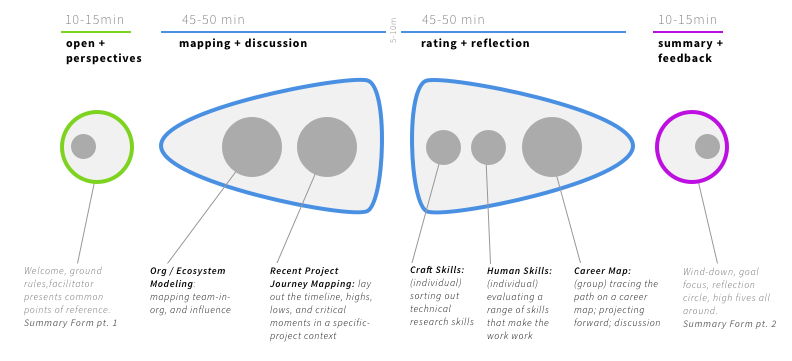 Who should attend this workshop?
We aim to gather 15-20 participants working at startups, agencies and in-house at big organizations, with different levels of experience.

Join us if:

You're a UX researcher or a PWDR (Person Who Does Research)
You're interested in reflecting on your own practice and open to exchanging with peers
You're comfortable in a 2hr English language workshop


And who's hosting this event?
The ResearchOps community is a Slack group that came together in mid 2018 to shape the emergent practice of Research Operations. It's grown to include 1,400 highly motivated researchers and designers-who-research from around the world. Our biggest project so far has been a series of workshop called 'What is ResearchOps?' to establish a framework for it.

Your facilitators in Paris:

Tomomi Sasaki is an early member of the community and now part of its leadership team dubbed the Cheese Board. She's also involved in the project team for the Researcher Skills Framework. Tomomi is a designer and partner at the independent design studio AQ and passsionate about building organizational capability for design and research.
Marine Dias participated in an early version of this workshop, and is excited to share it with fellow practitioners in Paris. Marine is a UX researcher and program manager at Haigo, as well as the mentorship program coordinator for the Paris chapter of Hexagon UX.

Venue and drinks generously provided by Hiveworks. The workshop is around 2 hours and we'll have a bit of time afterwards for an apéro.

---
This is a global community project by ResearchOps, with workshops hosted by volunteer members for communities around the world. We'll collect some of the workshop output data and send it back to the project team. They'll clean up and open-source all of the researcher skills data, and publish a well-informed skills framework that researchers everywhere can use as a guide for growth and career progression.
Related reading: A researcher skills & career workshop
Cover photo: A trial workshop in Paris, France
Date et heure
Adresse
Hiveworks
7 Rue Geoffroy l'Angevin
75004 Paris
France