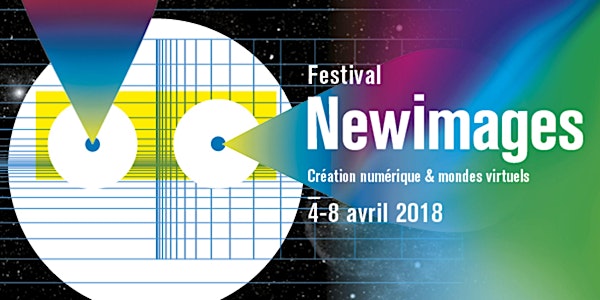 NewImages 2018 - Trade Meetings / Rencontres Professionnelles
Lieu
Forum des images / Les Halles
2 Rue du cinéma
Forum des Halles
75001 Paris
France
Politique de remboursements
Pas de remboursements
Description
Le nouveau festival de la création numérique et des mondes virtuels !
A new festival dedicated to digital creation and virtual worlds.
Toujours à l'avant-garde de l'innovation, le Paris Virtual Film Festival et I Love Transmedia se rejoignent pour créer le nouveau festival NewImages, le premier événement entièrement dédié à la création numérique et aux mondes virtuels sous toutes leurs formes. Les jeudi 5 et vendredi 6 avril 2018, deux journées professionnelles accessibles sur accréditations permettront de penser la création artistique de demain.
Always at the cutting-edge of innovation, the Paris Virtual Film Festival and I Love Transmedia have come together to create the NewImages festival, the first event entirely dedicated to all forms of digital creation and all kinds of virtual worlds. On Thursay 5 and Friday 6 April, the professional sidebar of the festival will explore tomorrow's artistic creativity. (English schedule down below)

---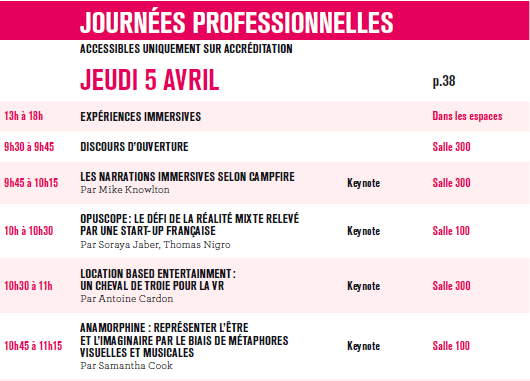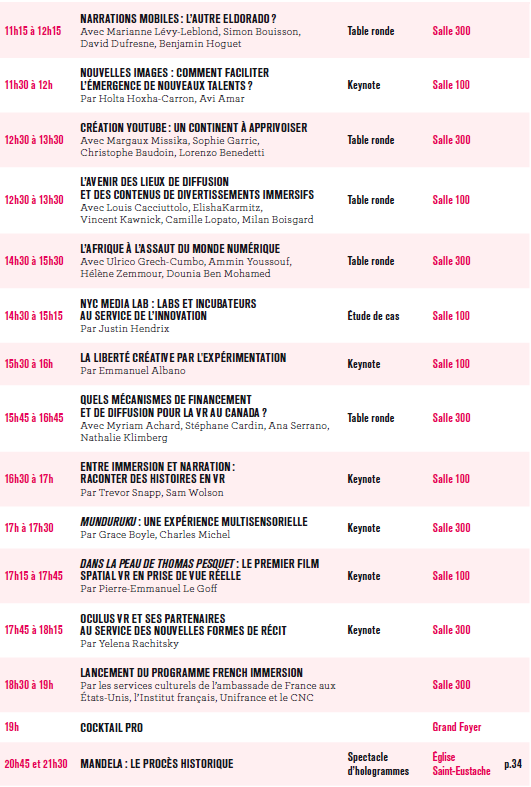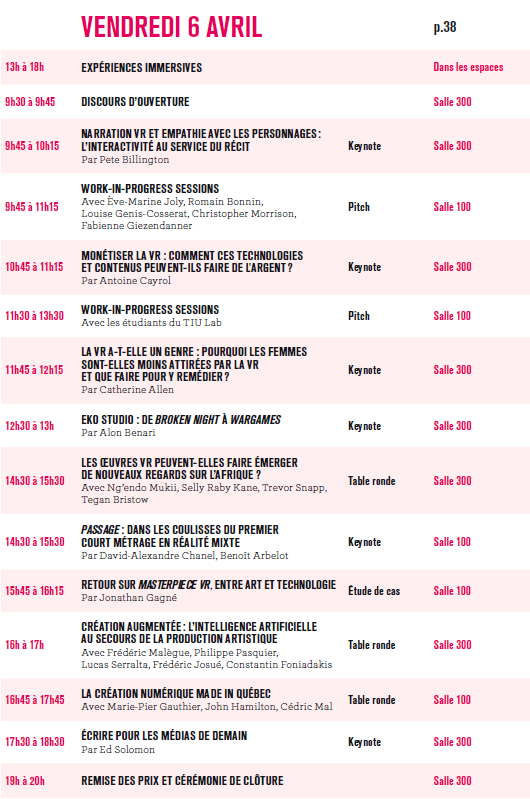 ---
English version
★★★ 2018 SCHEDULE ★★★

>>>>>>>> Thursday, April 5th

8h00 : Opening

9h45 : Immersive Storytelling with Campfire
Mike Knowlton (business builder & content innovator, Campfire)

10h00 : Opuscope: the challenge of mixed reality taken up by a french startup
Soraya Jaber et Thomas Nigro (Opuscope)

10h30 : LBE, VR's Trojan Horse
Antoine Cardon (DVgroup)

10h45 : Representing mental health and fantasy throughout musical and visual metaphors
Samantha Cook (Artifact 5)
11h15 : Is interactive storytelling the New Eldorado?
Marianne Lévy-Leblond (Arte), Simon Bouisson et David Dufresne (Directors). Moderator: Benjamin Hoguet
11h30 : Images and digital: how can we foster the emergence of new talent
Holta Hoxha-Carron (1000 Visages Production) & Avi Amar (Floréal Films)
12h30 : The future of broadcast places and immersive location based entertainment
Louis Cacciuttolo (VRrOOm), Vincent Kawnick (Virtual lRoom), Elisha Karmitz (MK2) and Camille Lopato (Diversion cinema). Moderator: Milan Boisgard (GoGlasses)
12h30 : YouTube: a new world to conquer for creators
Christophe Baudoin (producer), Sophie Garric (videographer) and Margaux Missika (UPIAN). Moderators: Lorenzo Benedetti (Studio Bagel Production)
14h30 : Africa's tackles on the digital world
Ulrico Grech-Cumbo (Deep-VR), Ammin Youssouf (Afrobytes) and Hélène Zemmour (TV5Monde). Moderators: Dounia Ben Mohamed (Africa News Agency)
14h30 : NYC Media Lab: labs and incubators for innovation
Justin Hendrix (NYC Media Lab)
15h30 : The creatice freedom through experimentation
Emmanuel Albano (3MOTION INC)

15h45 : Financing sources and funding mechanisms for the development and promotion of VR in Canada?
Myriam Achard (Centre Phi Montréal), Stéphane Cardin (Canada Media Fund) and Ana Serrano (Canadian Film Centre & CFC MediaLab). Moderator: Nathalie Klimberg (Mediakwest)
16h30 : Between Immersion and Narrative: telling stories in VirtualReality
Trevor Snapp et Sam Wolson (Director)
17h00 : Munduruku : shooting a multisensory piece
Grace Boyle (The Feelies) and Charles Michel (Experience Designer)
17h15 : Being Thomas Pesquet : Technical constraints in favour of artistic experimentation
Pierre-Emmanuel Le Goff (La Vingt-Cinquième Heure)
17h45 : How Oculus VR is working with partners to push storytelling forward
Yelena Rachitsky (Oculus VR)
18h30 : program Launch "French Immersion"
French ambassy in the united States' Cultural departments, the French Institute, Unifrance and the National Center of Cinematography and the moving image

19h00 : Cocktail
>>>>>>>> Friday, April 6th

8h00 : Opening
9h45 : VR Storytelling: Balancing interactivity and narrative through character connection
Pete Billington - Fable Studio
9h45 : Work-in-progress sessions
Projects pitches with Eve-Marine Joly ("Sex Buyers Experience"), Romain Bonnin and Louise Genis-Cosserat ("Griffin"), Christopher Morrison ("The Werewolves Experience") and Fabienne Giezendanner ("Dreamin' Zone")
10h45 : VR Monetization : how can all this great technology and content make money?
Antoine Cayrol (Atlas V)
11h30 : TIU Lab pitch projects

11h45 : The VR gender gap: why are women less attracted to VR and what can we do about it ?
Catherine Allen (Limina Immersive)

12h30 : Eko Studio : from Broken Night to WarGames
Alon Benari (Eko)
14h30 : Can VR works bring out new perspectives on Africa ?
Ng'endo Mukii (Director), Selly Raby Kane (creator and director) and Trevor Snapp (photograph, journalist and director). Moderator : Tegan Bristow (Fak'ugesi African Digital Innovation Festival)
14h30 : Passage : Behind the scenes of 'Passage', the first short movie shot in MR
David-Alexandre Chanel (Théoriz) and Benoît Arbelot (Théoriz)
15h45 : MasterpieceVR's development, between art and technology
Jonathan Gagné ( MasterpieceVR)
16h00 : Augmented Creation: Artificial Intelligence to the rescue of artistic production
Philippe Pasquier (Simon Fraser University, Vancouver), Lucas Serralta (Canal+) and Frédéric Malègue (Goyaves/GingaLab). Moderator : Frédéric Josué (18Labs.io Disruptive Innovation/Uni-XR)
16h45 : Digital Creation made in Quebec
Marie-Pier Gauthier (ONF/NFB) and John Hamilton (UNLTD VR). Moderator: Cédric Mal

17h30 : I have no idea what this thing is called - Writing for the future of media
Ed Solomon (author, producer and director)
19h00 : Closing cérémonie and prize awards