Cet événement est terminé.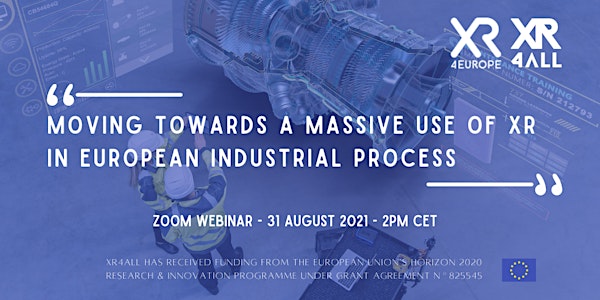 Moving Towards a Massive Use of XR in EU Industrial Processes
The use of XR technologies & applications in industry represents a high potential for an increased competitiveness!
À propos de cet évènement
DESCRIPTION
XR4ALL and XR4Europe offer a free webinar on Zoom on the use of XR (eXtended Reality) technologies and applications in industry that represents a high potential for an increased competitiveness in companies. These technologies are going to become established in all sectors during the current decade. It is therefore crucial for European companies to be fully prepared in order to maintain and/or develop their competitive advantage in a globalised world.
While many companies have already integrated XR, many are still confining it to R&D labs or specific environments.
This webinar aims to give a voice to industries using XR technologies and applications to identify the challenges they are facing in order to massively expand the use of XR to all their processes.
Identifying these challenges is an important key for the XR development industry to help user companies overcome them. Understanding these challenges is also an essential prerequisite for efficiently meeting the needs of these companies.
SPEAKERS
-Anne BAJART (European Commission)
-Antony VITILLO (New Technology Walkers)
-James WATSON (XRTech Marketing)
-Nick (Nicola) ROSA (Acenture)
-To be completed – Stay tuned
REGISTRATION
Registration is free but mandatory.
XR4ALL has received funding from the European Union's Horizon 2020 Research and Innovation Programme under Grant Agreement Nº 825545.