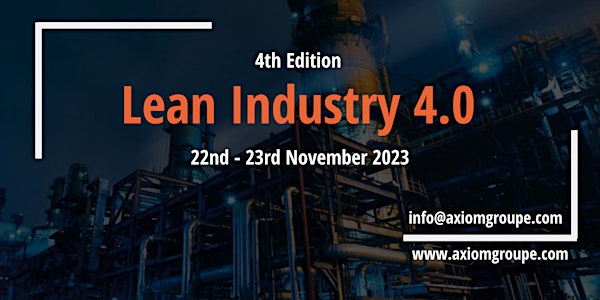 Lean Industry 4.0 2023
The aim of the meeting is to bring together professionals from leading multinational organizations across the EMEA region to network
Date et heure
mer. 22 nov. 2023 08:00 - jeu. 23 nov. 2023 18:00 CET
Lieu
Carrer de Bergara, 11 11 Carrer de Bergara 08002 Barcelona Spain
Politique de remboursements
Contactez l'organisateur pour demander un remboursement.
Les frais d'Eventbrite ne sont pas remboursables.
À propos de cet évènement
We invite you to join us on the 22nd and 23rd of November 2023 at our exclusive, interactive EHS Conference, in Barcelona, Spain at Hotel Catalonia, Plaça Catalunya ****.
The aim of the meeting is to bring together professionals (Operations Director, Director Supply Chain Management, Operations Transformation Vice President, Vice President Operational Excellence, Director Global Manufacturing Science, Chief Operations Officer) from leading multinational organizations across the EMEA region to network, benchmark and find answers regarding Industry , Industriial Internet of Things, 3D Printing, Machine Learning, Data Analytics.
Full access to all of the presentations, discussions and round table· All refreshments and lunches· The online documentation: strategic information from the conference (speakers' presentations) that you can use later internally. Axiom Groupe is a leader in international business meetings and communication, producing conferences, delivering business intelligence and strategic information.
Please visit our website: www.axiomgroupe.com
Please contact us at info@axiomgroupe.com for further informations.
À propos de l'organisateur
Axiom Groupe is a pioneer in the delivery of international business meetings and communications. We provide first-class business meetings that produce insightful strategic information and market relevant business intelligence. At Axiom Groupe, we offer e-marketing solutions; best practice benchmarking opportunities; sales incentives; masterclasses and in-house trainings. We deliver unrivaled first-class corporate hospitality and a host of other Axiom Community services to industry leaders and blue-chip organisations.