Cet événement est terminé.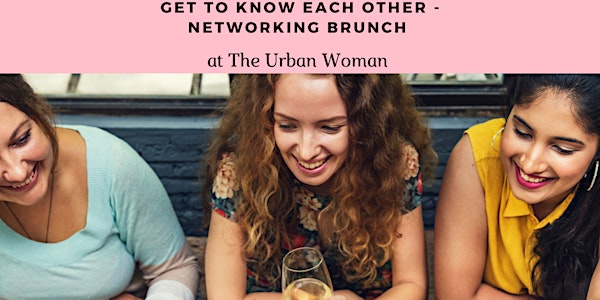 Get To Know Each Other - Networking Brunch
Get To Know Each Other - Networking Event Brunch
Où et quand
Lieu
The Urban Woman Rue Bosquet 47-49 1060 Saint-Gilles Belgium
Politique de remboursements
Contactez l'organisateur pour demander un remboursement.
Les frais d'Eventbrite ne sont pas remboursables.
À propos de cet évènement
We are happy to host and invite you to our networking event!
Get to know each Other Brunches is the networking event for Brussels-based female entrepreneurs at The Urban Woman.
The Urban Woman is the point of reference of business women in Brussels. We are a dynamic, committed group of business women who know how to refer business to each other.
We truly believe that networking has become a crucial factor when you decide to become independent! Networking is the most effective method of developing not just your business or career but also, it is a key component of your personal brand.
Launching your own business is really exciting but it can also be very challenging. Sometimes we might feel lonely, not understood and lost in the developing process… One of the most challenging things is to be recognized and known as an expert provider in your field.
This is why building your network and community while you're growing your business is very important to achieve the success and the outcome you deserve. Being part of a community of like-minded people can be an essential key to growth, both personally and professionally.
We can't wait to meet you! Bring your enthusiasm and integrity!
You will discover how to effectively create a strategy for networking that will generate your own community and actively grow your personal network. This will result in an improved performance in your approach to networking and consequently provide opportunities and prospects that will increase your business success.
The event "Get to Know Each Other Brunch'' was born with this aim : create a strong community and networking! Because we know that it is not only about who you know, it is also about who knows you!
What you will learn :
Increase Your Business Presence
Tips on : how to create a business plan, communication ect
Developing a Networkers Attitude
Communication Skills for Networking Success
Developing a Conversation
Breaking into a Group
Creating a Plan
Don't miss the chance to build a professional reputation and develop a network of connections!
Every Second Sunday of the month!
Price: 25 € par personne.
From 11h
Free buffet with fresh products
Speed date
Small Workshop about a specific topic
Come to join the TUW community!
Our Activities are organized according to the new Covid measures.
Mask is mandatory!