Cet événement est terminé.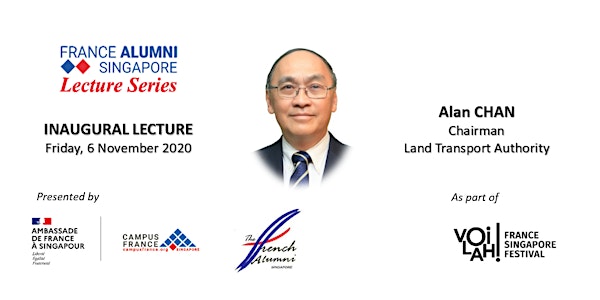 FRANCE ALUMNI SINGAPORE INAUGURAL LECTURE
A conference by Alan Chan, Chairman of the Singapore Land Transport Authority
À propos de cet évènement
For the first time, the French Embassy in Singapore, together with the French Alumni, will organize a series of lectures – France Alumni Singapore Lecture Series – given by imminent personalities to put the spotlight on how an overseas education, notably in France, influenced their chosen career path and the impact this has on Franco-Singaporean cross relations.
Alan Chan holds a Diplôme d'Ingénieur from the Ecole Nationale de l'Aviation Civile, France, and MBA (with Distinction) from INSEAD, France. He is a President's Scholar and was conferred the Public Administration Medal (Gold and Silver) and the Meritorious Service Medal for his contributions to public service. In 2009, he was selected by INSEAD as "one of 50 Alumni who changed the world".
12.30pm – 12.35pm
Opening remarks by the French Ambassador
12.35pm – 12.40pm
Opening remarks by Mr. Kevin Chow, Vice-President of the French Alumni association
12.40pm – 1.00pm
Introduction to the Speaker followed by Mr. Alan Chan's presentation
1.00pm – 1.15pm
Interactive interview of Mr. Alan Chan by Mr. Kevin Chow
1.15pm – 1.30pm
Q&A and closing
This conference is part of vOilah! France - Singapore 2020.
Information
Date: 6 November
Time: 12:30PM
Location: Digital event
Link: https://us02web.zoom.us/j/86017679228?pwd=U2krUktqcGJxNVdGMUN6S2llNXRzZz09
Meeting ID: 860 1767 9228
Passcode: 284695