Cet événement est terminé.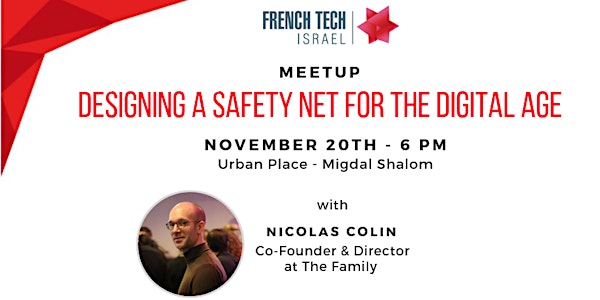 Fireside chat : Designing a Safety Net for the Digital Age
Où et quand
Lieu
Urban Place- Migdal Shalom 9 Ahad Ha'Am Street Tel Aviv-Yafo, Tel Aviv District Israel
Description
We're glad to invite you to a fireside chat with Nicolas Colin, Co-Founder & Director at The Family to discuss his book Hedge: a Greater Safety Net for the Entrepreneurial Age.

As we've been moving away from old economic realities into the digital age, new solutions for broad-based social security are needed more than ever. It's time to redesign a social safety net which can provide security without getting in the way of progress - and yes, the tech community has a role to play in this shift!
Join us for a discussion about how the entrepreneurial ecosystem can work with policymakers and corporations to secure a better future for all.
It will be followed by a Q&A and networking.
This event is free & open to all. Please let us know you'll be coming by registering.

We look forward to seeing you there!
--

Some reviews of the book Hedge:
"An eye-opening primer to the technological present, proposing bold solutions for a 'Safety Net 2.0' and a better future for all." — Carlota Perez, author of Technological Revolutions and Financial Capital: The Dynamics of Bubbles and Golden Ages.
"Hedge brings together a deep reading of the history of economic development through transformational technology with Nicolas's own direct experience as a co-founder of The Family." — William H. Janeway, Senior Advisor, Warburg Pincus, author of Doing Capitalism in the Innovation Economy.
"A sharp and historically grounded analysis of how technology and the political economy of the West have evolved in tandem." — Kim-Mai Cutler, Partner, Initialized.
"An important book which poses profound questions about the social and political effects of technological change." — Sir Nick Clegg, former UK Deputy Prime Minister.
"Hedge should become part of Silicon Valley's playbook, because we urgently need to come together and find ways to uplift humanity in these times of radical change." — Vivek Wadhwa, Distinguished Fellow at Harvard Law School and Carnegie Mellon University.
"Carefully documented yet contemporary, Hedge makes for compulsive and thought-provoking reading, which will hopefully stir you into action." — Azeem Azhar, Founder, Exponential View.