Cet événement est terminé.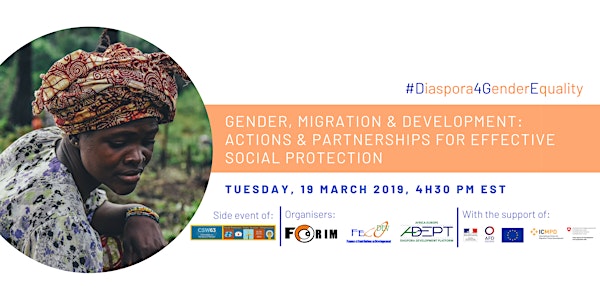 CSW63 side event "Gender, Migration & Development: Actions and partnerships for effective social protection"
Où et quand
Lieu
Church Center for the United Nations 777 United Nations Plaza, NY, corner of 1st Avenue & 44th Street New York
Description
Nearly half of the world's 258 million migrants are women who increasingly migrate using their skills, knowledge and financial conttibution to support themselves and their families, while contributing substantially to the development of their home and host countries.
In a context where gender inequality persists, migrant women face double discrimination in terms of access to education, decent employment, housing or health services.
Join us for an interactive discussion on the importance of ensuring migrant women's access to social protection, how to reduce vulnerability factors and guarantee the transferability of migrant rights.
---
Près de la moitié des 258 millions de migrant.e.s que compte le monde sont des femmes qui de plus en plus migrent de manière indépendante, utilisant leurs compétences, connaissances et apports financiers pour subvenir à leurs besoins et à ceux de leurs familles, contribuant ainsi de manière substantielle au développement de leurs pays d'origine et d'accueil.
Cependant, dans un contexte où l'inégalité de genre persiste, les femmes migrantes font face à une double discrimination quant à l'accès à l'éducation, à un emploi décent, au logement ou aux services de la santé.
Rejoignez-nous pour une discussion interactive sur l'accès à la protection sociale des femmes migrantes, comment réduire les facteurs de vulnérabilité et garantir la transportabilité des droits.