Cet événement est terminé.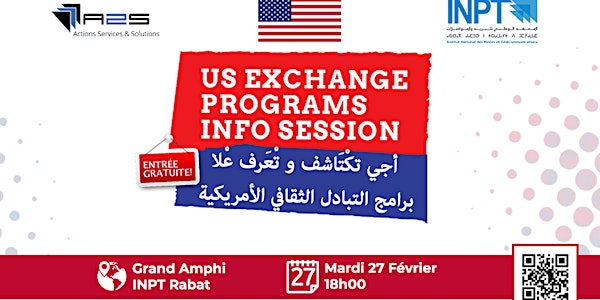 Conference: Information Session on US Exchange Programs
Où et quand
Lieu
Institut National des Postes et Télecomunications Rabat, Rabat-Salé-Kénitra Morocco
Description
Chaque année, l'ambassade des États-Unis à Rabat propose aux jeunes Marocains la possibilité d'effectuer des programmes d'échanges académiques et culturels aux États-Unis avec des bourses totales.
Pour cela, A2S, la junior-entreprise de l'INPT, en partenariat avec l'Ambassade des États-Unis à Rabat, organisent une conférence sous l'intitulé « Information Session on US Exchange Programs » pour présenter plus d'une dizaine des programmes d'échanges.
La conférence aura lieu au grand amphi de l'INPT le 27 février à partir de 18h. A travers laquelle, de nombreux bénéficiant de ces programmes partageront leurs expériences avec l'audience.
Nous vous invitons vivement à nous rejoindre le 27 février au grand Amphi de l'INPT.
PS : Entrée Gratuite pour tous.
Every year, the Embassy of the United States offers young Moroccans the opportunity to engage in first-hand cultural exchange with their American peers through our diverse educational and cultural exchange programs. These educational and leadership focused exchange programs range from short visit programs not exceeding one week to long-term postgraduate degrees.
Thus, A2S, the junior-enterprise of INPT, in partnership with the US Embassy Rabat, hosts a conference at INPT Rabat on the 27th February at 6p.m, to help you explore your options.
Returned U.S. exchange participants (US Exchange prgrams Alumni) from different cities will be joining us, where they will share their experience with you and answer all your questions.
Don't miss the opportunity and attend the US Embassy information session on exchange programs on the 27th February !