Cet événement est terminé.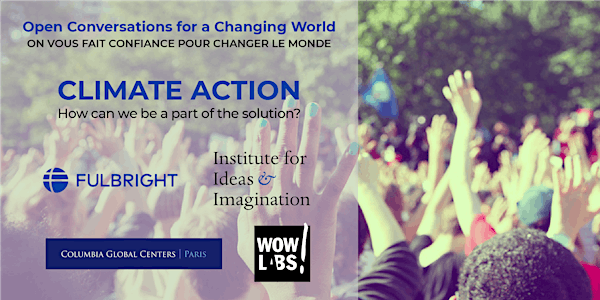 Climate Action: How can we be part of the solution?
After COP26, how can we be a part of the solution to climate change?
Où et quand
Lieu
Columbia Global Centers | Paris, Reid Hall 4 Rue de Chevreuse 75006 Paris France
À propos de cet évènement
Fulbright France, Columbia Global Centers I Paris, and the Institute for Ideas and Imagination are delighted to invite you to take part in an interactive exchange of ideas around climate action.
Through this open conversation with our vibrant communities of alumni and experts, you will gain new insights into the current state of global climate action and find out what each of us can do today to ensure a greener tomorrow.
Open Conversations for a Changing World is an innovative format launched by Fulbright France, Columbia Global Centers | Paris, and the Institute for Ideas and Imagination to engage their communities around timely topics and open the way for collaborations and connections.
On vous fait confiance pour changer le monde!
Speakers:
The event will open with a special performance by singer Marie Oppert
Chelsea Mortenson is a Paris-based visual artist, whose recently published children's book, Dans la Fôret Rouge, evokes the environemental devastation caused by the Chernobyl disaster.
João Piña is a photographer whose work explores global socio-political changes and human rights abuse through the language of visual memory. He is a current Fellow of the Institute for Ideas and Imagination.
Raphaël Pouyé is a Fulbright alumnus serving as the Country Manager for France of The Democratic Society.
Max Riché is a photographer with a master's degree in Biomedical Engineering from Columbia University. He uses photography and film to study the notion of "limit" in our modern societies and its refusal to satisfy our more or less essential demands.
Marta Torre-Schaub is a director of research at CNRS and a specialist in environmental law and climate change.
A reception will be held after the event at Le Boa, 127 bd du Montparnasse. If you would like to attend, please RSVP to: aneff@fulbright-france.org
Co-organizers:
The Fulbright program was founded in the United States in 1946 to promote mutual understanding through international educational exchange. It is the most prestigious educational grants program supported by the US government. A French-American Fulbright Commission was launched in 1949. It is jointly funded by the US Department of State and the French government. The Commission has provided grants to over 20,000 students, scholars, teaching assistants and professionals from France and the United States to study or conduct research in the other country.
The Columbia Institute for Ideas and Imagination hosts scholars, writers, and artists whose work has the potential to transform the way we think about the world. A presidential global initiative of Columbia University, the Institute aims to foster collaboration across the creative arts and scholarly disciplines through residential and short-term fellowships, workshops, conferences, exhibitions, and artistic events. Its primary goal is to enrich academic modes of presenting ideas by drawing together the scholarly and the artistic imagination.
***IMPORTANT*** ON-SITE INFORMATION REGARDING COVID-19
In compliance with French regulations, in order to enter Reid Hall, all guests must provide a pass sanitaire with proof of either full vaccination or a negative Covid test taken within the previous 72 hours. Thank you for your understanding.