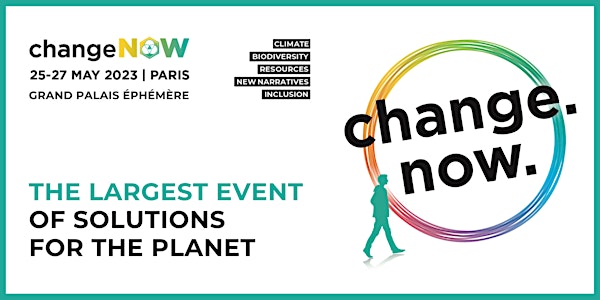 ChangeNOW 2023 - The largest event of solutions for the planet
The largest event of solutions for the planet is back May 25, 26, 27 in Paris. 3 days of action, hope and humanity ! Learn More
Où et quand
Lieu
Grand Palais Éphémère 2 Place Joffre 75007 Paris France
À propos de cet évènement
2 jours 9 heures

Billets électroniques sur mobile
🌱 ChangeNOW is the largest event of solutions for the planet.
For 3 days, the summit brings together the most innovative solutions and influential change-makers tackling our planet's biggest challenges, to take action, together. ChangeNOW builds bridges and creates opportunities for thousands of key change makers in an inspiring, action-oriented event.
During the event, you will have the chance to discover:
👉 1000 concrete solutions to make a real difference
👉 400 visionary speakers who will inspire you to take action
👉 1,200 impact investors who are ready to back your ideas
👉 from 120 countries
🗓 Practical information:
DATES : 25, 26, 27 May 2023
TIMES : 9 a.m. to 6 p.m.
PLACE : Grand Palais Ephémère, Paris
PRICES : Public from 15€ / Professionals from 290€.
⚠️ Please note that your Eventbrite ticket is only a PRE-REGISTRATION and will not grant you access to the event. To finalize your registration for the ChangeNOW 2023 Summit, you must follow the steps below :
▶️ Go to the official ChangeNOW 2023 ticketing page
▶️ Buy your ticket
À propos de l'organisateur