Informations sur l'événement
Adresse
Maison du développement durable
50 Rue Sainte-Catherine Ouest
Montréal, QC H2X 3V4
Canada
Politique de remboursement
Politique de remboursement
Contactez l'organisateur pour demander un remboursement.
Les frais d'Eventbrite ne sont pas remboursables.
Description de l'événement
You have the power to create your best life! It begins with setting your mind in the direction of your dreams. Do you want to learn how?
À propos de cet événement
You possess all the power within you to live a beautiful, fulfilling, and successful life. Whether you seek happiness, love, family, business, money, or anything else, mindset is the key. It unlocks the door to realizing all that you have ever wanted. You can have it all...change your mindset, transform your life!
Tom Bull and Claire Stride, professional speakers and life coaches, will give you an empowering, entertaining, and engaging experience. They will be covering topics that include the following:
> expand your self-awareness and get out of your own way
> understand the influence of neuroscience on your quality of life
> learn principles and strategies for creating a power mindset
> remain clear, strong, and balanced even in the midst of adversity
> discover how the power mindset positively enhances your relationships with yourself and others.
> be introduced to a powerful and effective framework for generating incredible breakthroughs in your personal and professional life!
During this talk, you will immerse yourself in discovering your power, developing concrete techniques and tools you can use immediately in your everyday, unveiling the greatness, the courage, the strength, and the wisdom, that already exists within you, and living your best life! Join us for this special event! Invest in you! Change your mindset and transform your life!
BIOS
Tom Bull is an entertaining and empowering speaker, life coach, and positive culture consultant. For more than 15 years, he has helped countless individuals, organizations, and businesses recognize the greatness they already possessed within and inspired them to achieve incredible personal and professional breakthroughs. Tom presents dynamic and engaging keynotes, workshops, and seminars focused on principles and practices used to develop a powerful and unwavering mindset. He also provides consultation for creating positive culture by way of enhancing communication, implementing systems of accountability and acknowledgement, conflict resolution, strength through diversity, and skill building for effective leadership. Tom facilitates Mastermind Groups in the areas of mindset, personal empowerment, healthy relationships, and positive culture development. Tom also hosts 2 podcasts, the Tom J. Bull Podcast and Heart of Greatness, which can be found on Spotify and iTunes.
Claire Stride loves neurons. She supports leaders and managers in their organizational, human relations, productivity and development concerns. She leads workshops and training on leadership, learning to learn, transcendence, brain power. She motivates women who want to launch their business. She is also an expert in supporting atypical and hypersensitive audiences. She writes books and also has a Youtube channel (in French, the English one is coming). Neurosciences, non violent communication, neuro linguistic programming...and humor are some strings of her bow.
Come and enjoy a time just for yourself and your daily fulfilment !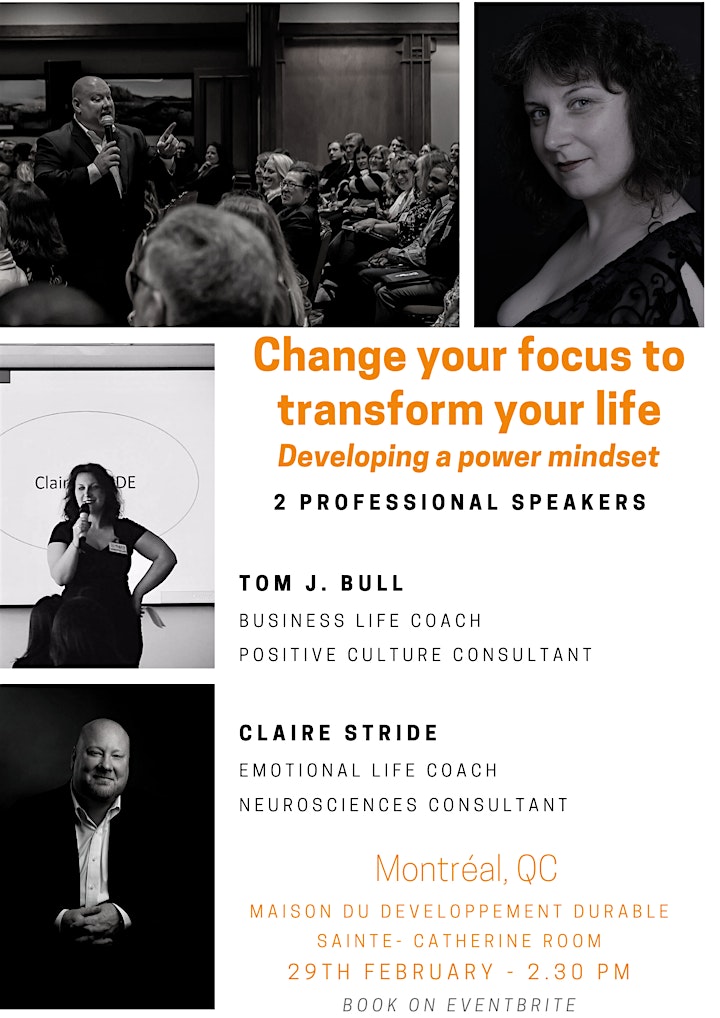 Date et heure
Adresse
Maison du développement durable
50 Rue Sainte-Catherine Ouest
Montréal, QC H2X 3V4
Canada
Politique de remboursement
Contactez l'organisateur pour demander un remboursement.
Les frais d'Eventbrite ne sont pas remboursables.