Cet événement est terminé.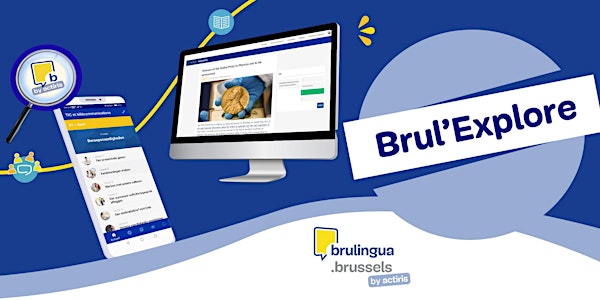 Brul'Explore (FR) (apprenants NL/NL studenten/NL learners)
Découvrez Brul'Explore, la nouvelle activité virtuelle de Brulingua!
Où et quand
Date et heure
lun. 16 janv. 2023 01:00 - 02:30 PST
À propos de cet évènement
Brulingua et sa nouvelle plateforme vous intriguent ? Vous voulez apprendre le néerlandais ?
Explorez la plateforme au travers de jeux lors d'une session en français en vidéoconférence. Vous découvrirez tous les secrets de Brulingua...C'est plus passionnant en s'amusant !
Après votre inscription, vous recevrez le lien de participation à la vidéoconférence dans l'email de confirmation.
----------------------
Wil je het nieuwe platform en de Brulingua-app gebruiken? Ben je Nederlands aan het leren?
Verken het platform in het Frans aan de hand van verschillende spelletjes. Het is veel leuker als je plezier hebt!
Na je inschrijving ontvang je in de bevestigingsmail de link om deel te nemen aan de videoconferentie.
----------------------
Do you want to explore the new platform and the Brulingua app? Are you learning Dutch?
Explore the platform in French through a series of games. It's more exciting when you're having fun!
After registering, you will receive a confirmation email with a link to participate in the videoconference.
À propos de l'organisateur
Website: https://qa.brulingua.be/fr/organisateur/brulingua-2/