Cet événement est terminé.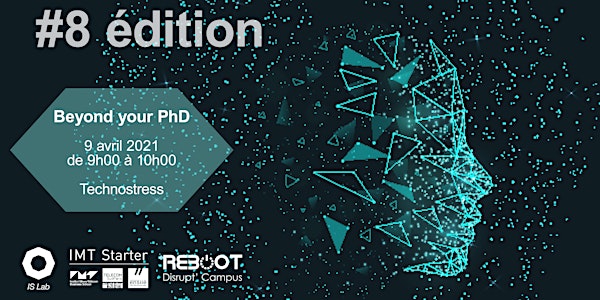 Beyond your PhD #8 : Le Technostress
Technostress and Technology Spatial Intrusion: An overview
À propos de cet évènement
The webinar introduces the concept of technostress and highlights some of its positive and negative outcomes on individual and organizational outcomes. It offer a summary on the current state of information systems research on this emerging topic that can inspire and guide both practioners and researchers.
A presentation hosted by Dr. Anuragini SHIRISH
This presentation will allow participants to:
Appreciate the importance of understanding technostress creators (TSC) and technology spatial intrusions (TSI) in the current work-life scenario
Understand how and why TSC and TSI may have negative and positive influence on performance outcomes.
Unpack the different types of TSCs
Delineate actionable strategies for leveraging and coping with TSCs based on the findings from recent research
Summary :
Context and Relevance
Technostress creators and outcomes
Technology spatial invasion and outcomes
Technostress and personality traits
Cognitive and affective coping mechanisms
Future perspectives
About the speaker :
Dr. Anuragini Shirish is an Associate Professor at Institut Mines-Télécom Business School, France. She hold a master's degree from National Univeristy of Singapoer and a Phd from University Paris Saclay in France. She has been the academic director of the master's level executive major program called 'Business Information Systems for the Digital Era' since 4 years and she co-leads the activities of the information systems research team, SMART² at her institution. She is also an elected member to the LITEM research lab (joint, between IMT-BS, University Paris Saclay and University of Evry Val de Essonne). Her research interests include social, behavioural, cultural, and legal aspects related to information systems —specifically in the context of emerging and collaborative technologies. Her research has been published in internationally referred journals including Information Systems Journal (ISJ), European Journal of Information Systems (EJIS), Communications of the Association of the Information Systems (CAIS) and International Journal of Information and Management (IJIM). She has also presented her work in several premier IS and management conferences including International Conference on Information Systems (ICIS), Academy of Management (AOM), Pacific Asia Conference on Information Systems (PACIS), and Americas Conference on Information Systems (AMCIS), among others. She has been honored with several awards including the second prize at the Sphinx best thesis award.
Recent publications / communications on the topic :
For Consultation
Peer reviwed articles on the topic authoured by the Speaker :
Shirish, Anuragini. 'Cognitive-affective Appraisal of Technostressors by ICT-based Mobile Workers and Their Impacts on Technostrain'. 1 Jan. 2020 : 1 – 21. (Pre press)
Chandra, S., Shirish, A., & Srivastava, S. C. (2019). Does technostress inhibit employee innovation? Examining the linear and curvilinear influence of technostress creators. Communications of the Association for Information Systems, 44(1), 19.
Srivastava, S. C., Chandra, S., & Shirish, A. (2015). Technostress creators and job outcomes: theorising the moderating influence of personality traits. Information Systems Journal, 25(4), 355-401.
Chandra, S., Shirish, A., & Srivastava, S. C. (2020). Theorizing technological spatial intrusion for ICT enabled employee innovation: The mediating role of perceived usefulness. Technological Forecasting and Social Change, 161, 120320.
Shirish, A., Chandra, S., & Srivastava, S. C. (2017). Watch out-It's my private space! Examining the influence of technology driven intrusions on employee performance. In Proceedings of the 50th Hawaii International Conference on System Sciences.
Latest Peer article on the topic :
Tarafdar, M., Cooper, C. L., & Stich, J. F. (2019). The technostress trifecta‐techno eustress, techno distress and design: Theoretical directions and an agenda for research. Information Systems Journal, 29(1), 6-42
Popular Press Articles:
Chandra, Shalini. Technostress: Does it Impede or Advance Employee Innovation? Accessible from https://education.apacciooutlook.com/cxoinsights/technostress-does-it-impede-or-advance-employee-innovation-nwid-7074.html
Shirish C. Srivastava. Bien optimisé, le technostress peut stimuler l'innovation . Accessible from https://theconversation.com/profiles/shirish-c-srivastava-385609
Shirish C. Srivastava, Shalini Chandra and Anuragini Shirish : How Personality Traits Influence Sensitivity to Technostress. Accesible from https://www.hec.edu/en/knowledge/articles/how-personality-traits-influence-sensitivity-technostress
Shalini Chandra. Do employees view technological intrusions as a loss of autonomy?, HR News, ETHRWorld (indiatimes.com) accessible at https://hr.economictimes.indiatimes.com/news/trends/employee-experience/do-employees-view-technological-intrusions-as-a-loss-of-autonomy/81203258