Description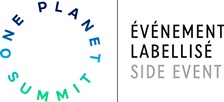 PARIS, DECEMBER 14 2017
A JOINT-ONE DAY RESEARCH CONFERENCE BY
A' IFG PARIS – INSEEC GROUP ,10 rue Sextius Michel, Paris 15ème - 9.00 à 18.00

Under the patronage of

The research day aims to share updated knowledge on Green Finance current academic research and more specifically on the following topics: green bonds, corporate social responsibility, micro and macroeconomic baseline scenarios involving environmental risks

The event is held by Institut Louis Bachelier on behalf of the research chairs and the institutional partners it represents, and Finagri Chair (Sorbonne Business School, Paris 1) funded by main actors of the agricultural sector to develop academic research on innovative financial mechanisms. The day is divided into three academic sessions, one for each topic, encompassing the presentation of three academic papers followed by a round table gathering the researchers and a group of practitioners representing diverse opinions about the topic to be discussed (private and public banking institutions, asset managers, investment funds, insurance companies, corporate issuers…).

The audience targeted is academic and young researchers, and professionals interested in research production or broadly speaking innovation in the domain: consulting companies, journalists, rating agencies, regulatory institutions and monitoring bodies…

The Scientific Committee comprises:
Jean Boissinot (Ministry for the Economy and Finance),
Morgan Després (Banque de France),
Philippe Dessertine (IAE Paris Sorbonne),
Benoît Leguet/Morgane Nicole (I4CE),
Charles-Albert Lehalle (CFM, Paris et Imperial College, London),
Anne-Claire Roux (Paris EUROPLACE/Finance for Tomorrow),
Peter Tankov (ENSAE),
Bertrand Villeneuve (Université Paris-Dauphine).
PROGRAM (DRAFT):
Registration/Coffee
Keynote lecture
Jean Boissinot (Ministry for Economcs and Finance)
Session 1: Green Bonds
Lunch break
Parallel session 2: Social and Responsible Investment
Parallel session 3: Climate-related financial risks
Conclusions