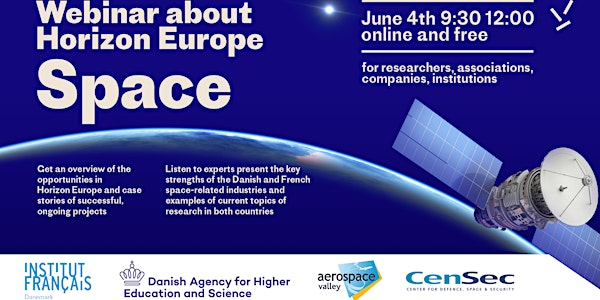 Danish French webinar about Horizon Europe - Space
Join us for a webinar on Danish-French collaboration on Space and Horizon Europe programme
About this event
Are you a researcher, company, institution working in the field of Space? Would you like to meet new partners?
The French Institute of Denmark and the Danish Agency for Higher Education and Science are organizing an online event on Danish-French collaboration on Space and the new funding opportunities offered by the Horizon Europe programme. Join us for this free online event!
You will have the opportunity to listen to experts present the key strengths of the Danish and French space-related industries and examples of current topics of research including two case stories of successful, ongoing projects.
The event will be held in english.
Program :
Moderator : Michael Linden-Vørnle, Astrophysicist (PhD) and Chief Adviser
DTU Space - National Space Institute (DK)
★ Space-related opportunities in Horizon Europe
Cecilie Tornøe, Special Adviser, Ministry of Higher Education and Science,
Danish Agency for Higher Education and Science,
National Contact Point for Space
Fabienne Daveran
European Desk Manager, Aerospace Valley
French National Contact Point 
★ Two case stories of successful, ongoing projects
● I3DS project (Integrated 3D Sensors suite)
Vincent Dubanchet, Ph.D., R&D engineer in GNC & Space Robotics
Thales Alenia Space France (coordinator)
Uta Schneider, European Affairs, Manager - Public Affairs, Head of Brussels office,
TERMA Group (DK)
● The KEPLER project
Keld Qvistgaard, Senior Ice Advisor, Greenland Ice Service
Danish Meteorological Institute
Gilles Garric, Head of Innovation Team
Mercator Ocean International (FR)
★ Presentation of the Danish space industry
Anders Laustsen, Project Development Manager
CENSEC (Danish cluster for small and medium-sized enterprises specializing in high tech industries like defense, homeland security, space, aerospace, railway and maritime)
★ Presentation of the French space industry
Philippe Lattes, Deputy Director for Space
Aerospace Valley, Competitiveness Cluster for Aeronautics, Space, Drones and Embedded System (FR)
★ Examples of research topics at DTU Space (DK)
Michael Linden-Vørnle, Astrophysicist (PhD) and Chief Adviser
DTU Space - National Space Institute
★ Examples of research topics at CNRS (FR)
Anny Cazenave, Research scientist at LEGOS/CNES (Laboratory for Studies in Geophysics and Space Oceanography
Director for Earth sciences at ISSI (International Space Science Institute), Bern, Switzerland
President, Geodesy Section, AGU (American Geophysical Union)