Cet événement est terminé.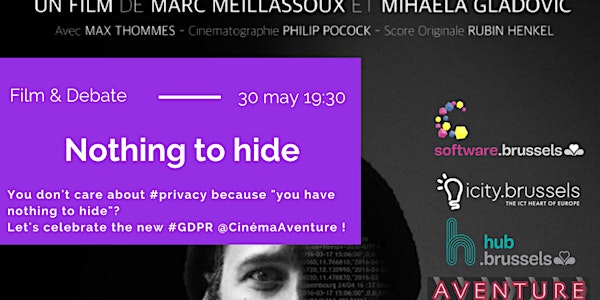 Debate & Film - Nothing to hide - @Cinema Aventure
Où et quand
Lieu
Cinéma Aventure 15 Rue des Fripiers 1000 Bruxelles Belgium
Description
Nothing to Hide (2017) is a Franco-German documentary film by Marc Meillassoux and Mihaela Gladovic, which focuses on the effects of mass surveillance on individuals and society.
The film tackles the question of mass surveillance and its degree of acceptance by the population summarized by the argument "I have nothing to hide". The red thread of the documentary is a voluntary spy experiment conducted on Mister X, a young actor living in Berlin. With his agreement, the metadata of his computer and his smartphone are harvested for a month using spyware, then analyzed by researchers. This is to illustrate the fact that it is then possible to extract a lot of personal information from online services, social networks and mobile applications (Google, Facebook, WhatsApp etc.). This experience is interspersed with interventions by whistleblowers, hackers or victims of surveillance.
The documentary also presents solutions to help users protect their online data such as the use of free software, encryption of communications (Signal Messaging, PGP) or anonymous browser Tor.
For a preview a short video (6 min) presents the documentary: https: //vimeo.com/237546102
The film was funded by crowdfunding to support the production you can give via https://leetchi.com/c/project-nothing-to-hide
Debate in the cinema
As the #GDPR takes effect across Europe on May 25th. Let's take the opportunity to share a movie together and extend the debate on personal data.
The session will be followed by a round table and a debate with the audience.
Free entry for Software Cluster members
A drink offered.