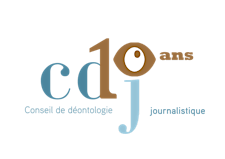 Conseil de Déontologie Journalistique / Council for Ethical Journalism
The Conseil de déontologie journalistique / Council for ethical journalism (AADJ/CDJ), created by a legislative decree in 2009, is an organisation for self-regulation of the French-and German-language media in Belgium. It consists of representatives of publishers, journalists, editors and civil society.

It is in charge of three distinct functions: information (answers to questions of the public, publications, newsletters..), mediation (ombudsman) and auto-regulation (notifications, complaints handling, recommandations) and CDJ's utility is both "internal" for journalists and "external" for the public. Contributing to quality information and the citizens' right to be correctly informed is the ultimate goal of the assignments entrusted to CDJ.


Désolé, il n'y a pas d'événements à venir