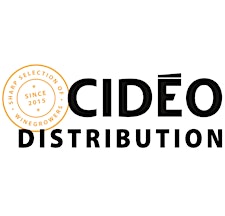 Cidéo Distribution
CIDEO DISTRIBUTION
Créé par Julie Marano et Virgile Lacroix en 2015, Cidéo Distribution est le référent des acheteurs de Champagne. 
Implantée en Champagne, à Aÿ, au cœur des grands crus champenois l'entité est une branche de l'Agence Cidéo, agence de branding et de business, qui accompagne les vignerons dans la création et le développement de leur identité de marque. 
Ainsi, Cidéo Distribution a la particularité d'être portée par des « créateurs-marketeurs-dégustateurs », audacieux, optimistes et novateurs.  Loin d'eux l'envie de prendre les chemins déjà empruntés : Cidéo Distribution a pour vocation de mettre en marché des produits sélectionnés pour leur qualités, leur originalité et leur image bien ficelée.  
En effet, Cidéo Distribution a souhaité créer de nouvelles passerelles entre les producteurs et les acheteurs en étant à l'écoute permanente des marchés et des tendances en France et à l'étranger.  
En pleine connaissance du produit et de son process de fabrication, de ses auteurs (90 % des marques passent par l'expertise de l'agence), mais aussi du marché et des consommateurs qui s'y trouvent, Cidéo Distribution porte un regard transversal assurant la commercialisation réussie des vins et champagnes de son portfolio.

Created by Julie Marano and Virgile Lacroix in 2015, Cidéo Distribution has become a reference for the Champagne buyers.
Implanted in Champagne, in Aÿ, in the very heart of Champagne, Cidéo Distribution has the distinctive characteristic to be carried by «creators - marketers - wine tasters & connoisseurs» part of an audacious, optimistic and innovative team.
Far from the traditional paths, Cidéo Distribution intends to bring on the market a sharp selection of products, carefully chosen for their quality, originality, complementarity and image.
Indeed, Cidéo Distribution wishes to keep on creating new bridges between producers and buyers by being permanently attentive to the market trends in France and internationally.
Fully aware of the producer's style and production processes (90 % of the brands have passed through the expertise of our branding and business agency) and of the market and its consumers, Cidéo Distribution carries a transverse vision that ensures the successful marketing of its wines and champagnes portfolio. 
Sorry, there are no upcoming events