Description
Démonstration des LiDARs Vx et Surveyor dans le Sud de la France!
LiDAR Vx and Surveyor Demo in the South of France!
La démonstration aura lieu en français.
The demonstration will be in French. If needed some of our team members could translate to English or Spanish.
Assistez à la démonstration des deux LiDARs phare de YellowScan le 24 Janvier!
YellowScan will be demonstrating 2 LiDAR systems on January 24th:
- Le Vx-20 est LA solution multi-écho(5), longue portée et haute précision pour le génie civil ou la forêt.
- YellowScan Vx-20, the high precision & long-range LiDAR solution for UAV. This system is ideally suited for long range survey needs, advanced accuracy (2,5 cm) and precision (1 cm).
Ideal Use Cases: Civil engineering, Forestry
Applanix APX-20 & Riegl miniVUX inside.
- Le Surveyor est la solution légère et précise pour vos projets en génie civil, topographie ou minier.
- YellowScan Surveyor, the world's lightest LiDAR solution for UAV.
Ideal Use cases: Civil Engineering, Mining and General Topography .
Applanix APX-15 & Velodyne VLP-16 inside.
------
LiDAR systems are renowned for under vegetation 3D modeling, and fast data processing.
YellowScan Surveyor and Vx-20 will be demonstrated on the DJI M600 Pro.

Planning :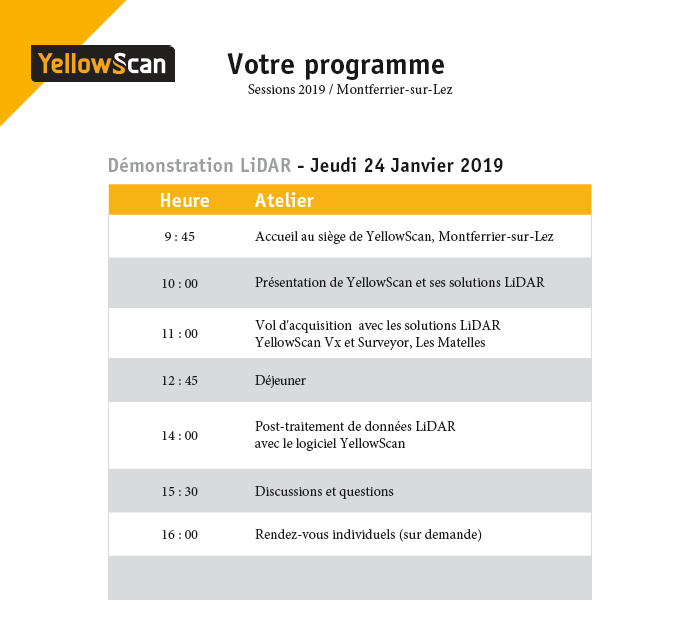 N.B. L'accueil sera accompagné de café, thé et croissants. Le déjeuner au restaurant le Cygory est également inclus.
YellowScan Demo Tour 2019
Everybody talks about UAV LiDAR - the engineer in planning, the forester involved in wood mass calculation, the construction companies taking part in large projects to model it before, during and after its implementation or the utility companies for their corridor mapping and infrastructures management.

Reasons enough for us to organize the first Yellowscan Demo tour 2019 under the motto « Measuring the world with UAV LiDAR ». The scope is to show this high tech tool in a real working environment and demonstrate how easy it is to generate topographic data with UAV LiDAR.

During our tour you will learn about the latest solutions and use cases from YellowScan and its partners with lectures, workshops and open discussions.

Visit us at one of YellowScan Demo Tour stops.
We look forward to meeting you !
If you can't join us today, register to our User Conference LiDAR for Drone in March for 2 days of collaboration, use cases, demos, networking with your peers. Register here: https://www.eventbrite.ca/o/yellowscan-8152984170 and get 10% off using this code: EVENTBRITE10
Organizer of YellowScan Demo Tour 2019 - Montpellier