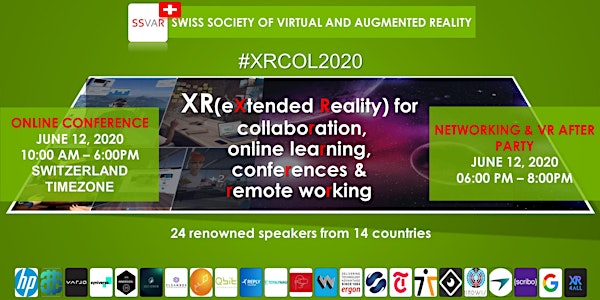 XR for collaboration, conferences, online learning and remote working
How immersive and augmented technology can help us better connect with one another?
About this event
Founded in 2016, SSVAR (https://ssvar.ch) is a business network based in Switzerland and dedicated to fill the gap between the public and professionals in the field of virtual, augmented and mixed reality industries.
THE QUESTION
How immersive and augmented technology can help us better connect with one another?
THE ANSWERS
We have gathered XR industry professionals to collate and share the resources needed to help more people take advantage of XR collaboration tools.
THE CONCLUSION
"XR offers a bridge between the traditional telephone call and face-to-face interactions, allowing people to feel like they're in the same place when it's logistically impossible."
CHANNEL TIME OF SPEECH SPEAKER Title
1 10:00 Mohamed Jean-Philippe SANGARE Introduction & Event presentation
1 10:30 DANIEL NEUBIG Collaboration in AR - The future of work
1 11:00 MARCO SACCO Evolution of XR for remote diagnostic, collaboration and training
1 11:30 DAVID MORENO "Why VR Immersive Rooms Are The Next Breakthrough For Companies and Universities
1 13:00 PAOLO DAL SANTO "XR for Teaching and Learning: Campus of the Future Project
1 13:30 LIONEL CRASSIER "Examples of remote collaboration - Industry 4.0
1 14:00 SANA FARID Unrivaled XR Program & Rollout Strategy
1 14:30 SCOTT MARSHALL 'How latest innovations in Immersive (360) Spatial Audio have helped Sound Creatives & Producers carry on collaborating and working remotely in a post Covid-19 world'
1 15:00 RETO GROB How to train people using HoloLens 2 with work instructions / step-by-step guidance
1 15:30 Danny Stefanic "Best practices for Virtual Events (and some free tools!)
1 16:00 MONIQUE MORROW Data Governance-Privacy Learning and AR
1 16:30 Caitlin Krause Mastering Collaboration in XR
Channel
2 10:30 RENE SCHULTE Spatial Computing with Azure Mixed Reality, Digital Twins and HoloLens 2
2 11:00 JEAN-PAUL FORGET Augmented Reality to overcome post-covid reality?
2 11:30 LEEN SEGERS "Crisis & Resilience: XR to the rescue
2 13:00 ALEXANDRA HUSSENOT Accessible XR
2 13:30 Nicolas Dupain French Skills center dedicated to the development of uses of immersive technologies in education / training / culture / collaboration. ?
2 14:00 MATTIA CRESPI "VR Meetings and Events - Social experiences to the next digital dimension.
2 14:30 Dragan Stiglic XR – what's that really, and what can you do with it
2 15:00 Ville Leppälä Vertical Lead, Medical & Healthcare
2 15:30 Christophe Mallet Virtual Reality & Soft Skills Learning in the Post-COVID World
2 16:00 AMY Hedrick The Building Blocks of a Successful XR Deployment
2 16:30 KONSTANTIN STARTCHEV Immersive Learning During Forth Technology Revolution
LUNCH BREAK AND VIRTUAL VISIT
LearnBrite 12:00-13:00 Virtual Visit Galery Isis Sangaré
ON Channel 1
PANEL 1 17:15 - 18:00
LAURENT FAVRE
RUPERT BREHENY
PAOLO DAL SANTO
ALEXANDRA HUSSENOT
CAITLIN KRAUSE
DANNY STEFANIC
DRAGAN STIGLIC
NETWORKING AND VR PARTY Sinespace 18:00-20:00
THE CONFERENCE LINK WILL BE COMMUNICATED LATER VIA E-MAIL AFTER REGISTRATION.