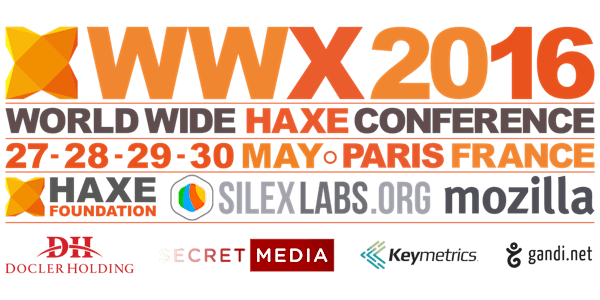 World Wide Haxe Conference 2016 (WWX2016)
When and where
Location
Mozilla Paris 16 Boulevard Montmartre 16 Bis Boulevard Montmartre 75009 Paris France
Refund Policy
Contact the organizer to request a refund.
Description
The WWX is a 4 day conference about Haxe a high-level multi-platform open source programming language. This 6th edition will take place in Paris (France) from May 27th to May 30th 2016 in the famous and magnificent building of Mozilla Paris, the perfect place to host the Haxe community in downtown Paris.
For those who attended the conference last year, you will be able to enjoy this place once again. And for those who did not have the opportunity to come last year (because you were not aware of the existence of such a great conference or because you were not available), it will be the chance to discover it.
In any case, we are looking forward to welcoming you in such an ideal place.
We had some difficultues to achieve the goals of the crowd funding, that's why we were waiting to be sure to be able to make the stream and the video captation before allowing to register for free.
We decided to cut all the social activities budget to do so.
You can now register for free at one condition: you have to be sure to come!
If you are sure to come, just send an email explaining why you want to come to the conference to contact@silexlabs.org and you will receive your promotionnal code to register for free.
Don't forget that this ticket will not allow you to have the amazing WWX2016 tee shirt :D.
FYI: All the money collected is dedicated to the conference, as non profit organisaztion we are just trying to organize the better conference without loosing money, so be sure that if you choose to pay your ticket it wil help us to improve the quality of the conference.
WWX2016's objectives
The objectives of the WWX2016 are to improve the cooperation and sharing between members of the Haxe community and to promote and disseminate knowledge about this language by:
– Allowing developers and designers from around the world (10 countries represented) to meet and to share their experiences and discuss the challenges and successes they had, in order to improve this language;
– Reaching a wide audience through the live broadcast on the Internet and through the online videos on our YouTube channel.
– Providing the opportunity to meet and network with community members from around the world: developers, designers, project managers, integrators, business leaders and students.
More infos on our website!
Follow @SilexLabs@haxelang and the #WWX2016 hashtag on Twitter.
Share the event on your favourite social media sites
What is Haxe?
The Haxe Toolkit is like the Swiss army knife for programming. A compact, lightweight solution for an extremely broad range of problems.
Applied correctly, the tools will allow you to cross barriers between platforms, programming languages and devices. You will be able to construct one solution that works across all your targets.
Whether you want to deliver a game or app to multiple platforms, target different devices or consoles or write a backend for a web page – with Haxe, you can do all of these things and more. Haxe has successfully been used for game development, web development, interface and UI development as well as art installations and maker projects run with Arduinos or Raspberry Pies. There is hardly anything you can't do with Haxe.
If this looks like something you could get into, you're lucky! The World Wide Haxe Conference 2016 is not far away and we'll be happy to have you there and help you get started.
WWXs
Since 2012 an average of one hundred participants has been attending WWX and more than 1,000 people followed the live video broadcast each year. The videos from the 5 previous editions totalize more than 40,000 views on our YouTube channel.
You'll find below videos pictures and infos about the previous WWX.
What is Silex Labs?
Silex Labs is a non profit organization and in charge of this conference for the fifth consecutive year.
Silex Labs is dedicated to helping open source communities. Our main objective is to share, sustain and expand free and open source projects.
How
We organize workshops, contributhons, conferences and after-work meet-ups about open source projects languages and methodologies.

We are heavily involved in the creation and the development of free and open source projects.
Why?
We believe that contributions and events can change everyone's life :

By creating the best tools available on the internet and keeping them free.

By giving people a better understanding of the new technologies and how to use them.
Our goals
Share our inspiration and our knowledge with everyone.

Help people take control over their digital and professional lives.

Contribute for a free and better World Wide Web.

Build human networks and inspire people.

If you want to change the world, contribute and show others how good it is to contribute. We are hiring the best volunteers who want to share opinions, knowledge, and good time!