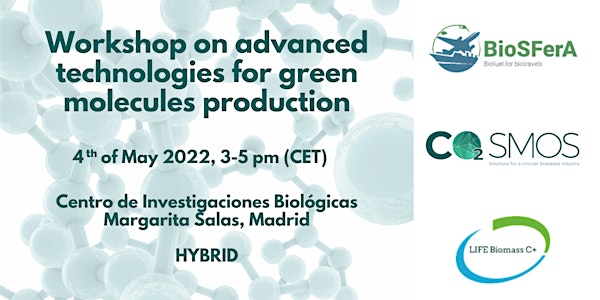 Workshop on advanced technologies for green molecules production
Event Information
Location
Biological Research Center
9 Calle Ramiro de Maeztu
28040 Madrid
Spain
Advanced biofuels and innovative biochemical technologies
About this event
The EU project BioSFerA, CO2SMOS and LIFE BIOMASS C+ will present their research activities dedicated to the exploration of new approaches and pathways for the synthesis of advanced biofuels and value added chemicals.
Their research work is part of the European strategy to find sustainable solutions for the energy transition and achieve the climate neutrality goal.
Main objective of this workshop is to update researchers, companies and decision-makers with the most relevant results and policies on the green mocules technologies.
When?
On 4th May 2022, 3-5 (CET) pm.
Where?
Centro de Investigaciones Biológicas Margarita Salas - Consejo Superior de Investigaciones Científicas (CIB-CSIC): C/ Ramiro de Maeztu, 9. 28040 Madrid, Spain.
Virtual event on zoom room (link by e-mail to each attendee).
Book your free ticket to reserve your virtual or in-presence seat.
The agenda:
3:00 Word of welcome by CIB-CSIC - Jose Luis Garcia Lopez, CIB-CSIC
3:10 – 3:30 H2020 BioSFerA: An interdisciplinary approach to produce sustainable aviation and maritime fuels from biogenic residues and wastes - Kostis Atsonios, CERTH/CPERI
3:30 – 3:50 H2020 CO2SMOS: A platform of technologies to transform CO2 emissions produced by bio-based industries into value-added chemicals - Raúl Piñero Hernanz, CARTIF
3:50 – 4:10 LIFE BIOMASS C+: Low-cost, carbon positive bioethanol production with innovative Green Floating Filters in multiple water bodies - Dimitrios Kourkoumpas, CERTH/CPERI
4:10 – 4:30 Spanish and European Strategic perspectives on Bioeconomy - Margarita de Gregorio, BIOPLAT
4:30 – 5:00 Round Table All
The projects:
BIOSFERA project has received funding from the European Union's Horizon 2020 research and innovation programme under Grant Agreement No 884208.
CO2SMOS project has received funding from the European Unio's Horizon 2020 research and innovation programme under grant agreement No101000790.
Life BIOMASS C+ is co-financed by the European Commission through the LIFE Programme (LIFE16 CCM/GR/000044).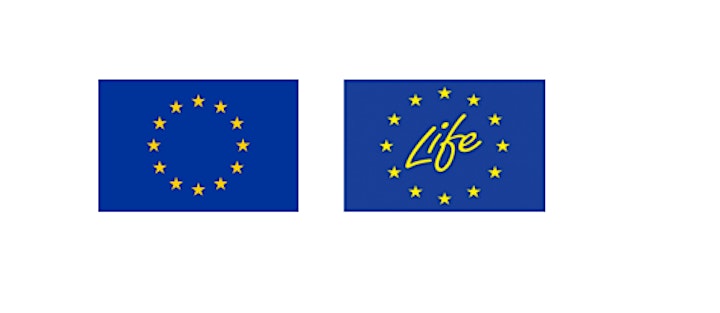 Date and time
Location
Biological Research Center
9 Calle Ramiro de Maeztu
28040 Madrid
Spain