Description
Learn how to build Marketing Strategy through Design Thinking Principles
Understand key principles of positioning, insights, value creation and value capturing in a DIGITAL World
How do you make your marketing strategy stronger?
Where are the weaknesses and how do you solve them?
Create a marketing strategy from scratch!
After defining your business model, the next logical step is to prepare your marketing strategy. During this training, Laurent Bouty teaches you how to develop or refine your marketing strategy by using the Marketing Canvas (more information on the method here).
You learn to analyze your market, focus / define your objectives and you learn whether your company is currently able to achieve these objectives.
The Marketing Canvas method assesses, compares and improves your marketing strategy. The method gathers all relevant domains that complete your strategy (Goals, Market, Competition, Trends, Customers, Brand, Value Proposition, Journey, Conversation and Metrics). Specially developed maps guide you through these steps. We provide you with various templates to help you during the process.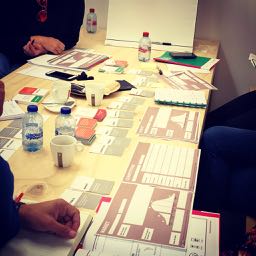 Who should attend?
Startups, Commercial managers, SME managers, Brand Manager, Marketing Managers, Product Managers, Sales Managers, anyone with an interest / passion for marketing in a customer-oriented context.
Pre-requisites
This workshop is designed for anyone interested in understanding how to design a marketing strategy (starter) and also develop a more robust exisitng strategy (expert).
Agenda
A new approach, more complex, ... (c

oncept of the experience economy)
Presentation of the Marketing Canvas Method
STEP 1 - CONTEXT: Go through the 3 main steps of the context: Market, Competitors, Trends
STEP 2 - GOAL(S): Define a financial ambition or 3BL ambition for your company
STEP 3 - ASSESSMENT: Customers, Brands, Value Proposition, Journey, Conversation, Metric

STEP 4 - IDEATION: Generate as much as possible ideas for shifting or reducing brakes and leveraging accelerator
STEP 5 - PRIORITISATION: Let's define some priorities for your ideas: an action plan for our marketing strategy.
Subjects covered
Positioning, Customer Intimacy, How to create value (brand, Value Proposition), How to capture value (Journey, Conversations), Key Metrics.
Practical information
Each participant will receive a free sample of the Marketing Canvas cards (value 50€)
Lunch and Coffee are included.
Each participant can work on his/her specific project/case (not mandatory)