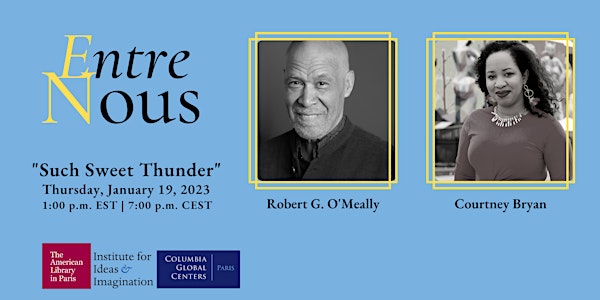 (WEBINAR) Such Sweet Thunder: Ellington Plays Shakespeare
A conversation and slideshow between Robert G. O'Meally and Courtney Bryan.
About this event
Due to the planned nationwide strike by all major French unions this Thursday, January 19, we have decided to hold this event online as a webinar.
For the Stratford, Ontario Shakespeare Festival of 1957, the American composers Duke Ellington and Billy Strayhorn created Such Sweet Thunder, a jazz concert honoring Shakespeare. "Somehow I suspect that if Shakespeare were alive today," said Ellington, "he might be a jazz fan himself. He'd appreciate the combination of team spirit and informality, of academic knowledge and humor, of all the elements that go into a great jazz performance." 
This talk will examine scores and recordings of Duke and Strays' dark bluesy "harlemizations" of certain Shakespearean scenes and characters. Ellington had said that Lady Mac, for example, "had a little ragtime in her soul." The talk will also feature contemporary video responses to these richly vibrant materials by the award-winning composer Courtney Bryan. 
Speakers
Robert G. O'Meally is the Zora Neale Hurston Professor of English and Comparative Literature at Columbia University, where he has served on the faculty for twenty-five years. The founder and director of Columbia's Center for Jazz Studies, O'Meally is the author of The Craft of Ralph Ellison, Lady Day: The Many Faces of Billie Holiday, The Jazz Singers, and Romare Bearden: A Black Odyssey. His edited volumes include The Jazz Cadence of American Culture, Living With Music: Ralph Ellison's Essays on Jazz, History and Memory in African American Culture, The Norton Anthology of African American Literature (co-editor), and the Barnes and Noble editions of Mark Twain, Herman Melville, and Frederick Douglass. For his production of a Smithsonian record set called The Jazz Singers, he was nominated for a Grammy Award. O'Meally has co-curated exhibitions for The Smithsonian Institution, Jazz at Lincoln Center and The High Museum of Art (Atlanta). He has held Guggenheim and Cullman Fellowships, and was a recent fellow at Columbia's new Institute for Ideas and Imagination at the Global Center/Paris. His new books are The Romare Bearden Reader (edited for Duke University Press, 2019) and Antagonistic Cooperation: Collage, Jazz, and American Fiction (Columbia University Press, 2020). For more information, please visit O'Meally's personal website here.
Courtney Bryan is "a pianist and composer of panoramic interests" (New York Times). Her music is in conversation with various musical genres, including jazz and other types of experimental music, as well as traditional gospel, spirituals, and hymns. Bryan has academic degrees from Oberlin Conservatory (BM), Rutgers University (MM), and Columbia University (DMA) with advisor George Lewis, and completed postdoctoral studies in the Department of African American Studies at Princeton University. Bryan is currently the Albert and Linda Mintz Professor of Music at Newcomb College, Tulane University. She served as the Mary Carr Patton Composer-in-Residence with the Jacksonville Symphony, 2018-20. Her work has been presented in a wide range of venues, and she has two recordings, Quest for Freedom and This Little Light of Mine. Bryan was the 2018 music recipient of the Herb Alpert Award in the Arts, a 2019 Bard College Freehand Fellow, and is currently a 2019-20 recipient of the Samuel Barber Rome Prize in Music Composition and a 2020 United States Artists Fellow. She has recently begun a new role as Creative Partner with the Louisiana Philharmonic Orchestra (LPO).  www.courtneybryan.com