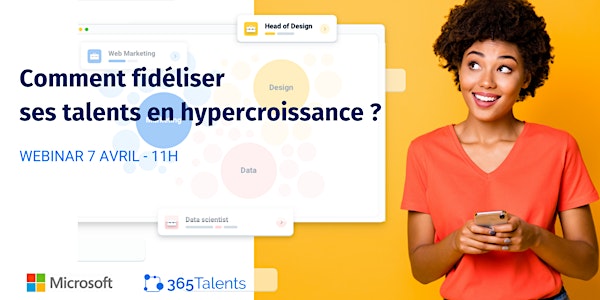 Webinar : Comment fidéliser ses talents en hyper croissance ?
Comment fidéliser ses talents en hyper croissance ?
By Microsoft Founders Community
Date and time
Wednesday, April 27, 2022 · 2 - 3am PDT
About this event
Recruter, c'est bien, fidéliser c'est nécessaire. 😉
En startups ou scale-ups, on a souvent des problématiques de recrutements (+100% recrutements par an suite à une levée de fonds par exemple).
• Mais quid de ceux qui sont déjà là ?
• Comment faire pour les projeter sur des parcours intéressants ?
• Comment éviter de perdre vos collaborateurs s'ils ne trouvent pas leur compte dans l'organisation que vous êtes en train de bâtir ?
Nous allons donc parler de rétention des talents, de la quête de sens dans les carrières, et des clés de talent management pour construire la licorne qui sommeille en vous.
Avec des exemples concrets de cas clients comme celui de Believe Digital.
📆 Rendez-vous le 27 avril 2022 à 11h00
Cet atelier, proposé par 365 Talents sera animé par Julie Asselin, Head of Marketing chez 365Talents
Remarque : si vous choisissez de participer à cette session avec Microsoft Teams, vos noms, et adresses électroniques seront peut-être visibles par les autres participants.