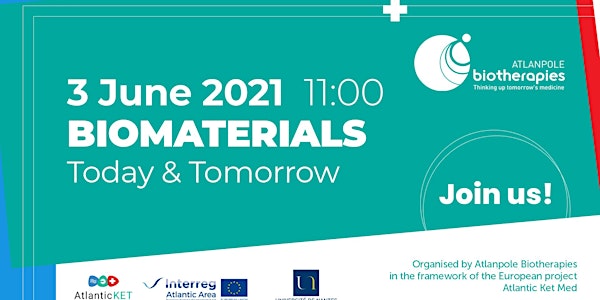 [WEBINAR] BIOMATERIALS – Today and Tomorrow
In the framework of the Interreg Atlantic Area project Atlantic Ket Med, Atlanpole Biotherapies is hosting a webinar on biomaterials
By ATLANPOLE BIOTHERAPIES (EN)
Date and time
Thu, 3 Jun 2021 02:00 - 03:30 PDT
About this event
In the framework of the Interreg Atlantic Area project Atlantic Ket Med, Atlanpole Biotherapies is hosting a webinar on biomaterials on 3rd June at 11 am.
Professor Pierre Weiss, from the University of Nantes, will be providing an expert talk on biomaterials. There will be time after to meet with professionals from across Europe to discuss the state of the art of the biomaterials sector in Europe, and also to meet with Atlantic Ket Med project partners.
Block 3 June at 11am CET in your agenda!
Programme:
11.00 - 11.10 : Introduction | Jessica Walker, European Project Manager, Atlanpole Biotherapies
11.10 - 11.50 : Biomaterials – What are they and what can they be used for? | Professor Pierre Weiss, University of Nantes, France
11.50 - 12:00 : Q&A
12:00 - 12.20 : Roundtable discussions in breakout rooms | Animated by Atlantic Ket Med partners
12.20 – 12.30 : Conclusions and wrap up
ORGANIZERS : Atlanpole Biotherapies - University of Nantes - Atlantic KET Med (AKM)
CONTACT ATLANPOLE BIOTHERAPIES:
Jessica WALKER, European Project Manager |walker@atlanpole.fr