Webinar 08 : Geoheritage for Geohazard Resilience
Geoheritage for Geohazards Resilience presents his eighth webinar with Steven Semken & Cécile Genovese
About this Event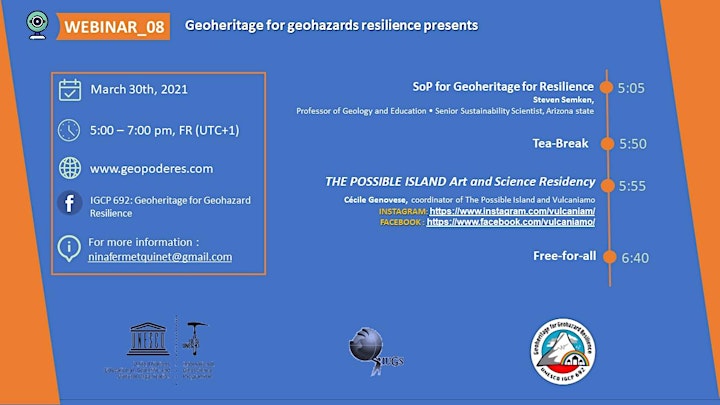 Learn more about SoP for Geoheritage and Resilience & The Possible Island Art and Science Residency!
• What is this seventh webinar about?
2 hours with Steven Semken & Cécile Genovese !
Presentations will be recorded and uploaded on social networks. We invite you to participate in the live webinar and ask your questions directly to the speakers. A forum is available on geopoderes.com for future questions!
• What do I have to do to participate?
Easy, all you have to do is register for free on this event and an email will be sent to you with the Webex login link to access the online conference room!
• What is this project about?
The IGCP UNESCO project: Geoheritage for resilience to Geohazards is a global project that aims to improve the vital link between societal responses to natural hazards and the scientific response through geoheritage.
• Why a series of webinar?
Because they allow us to reach a larger audience, open interesting discussions and the aim of the project is to increase the resilience!
• More questions?
Questions related to the event can be sent to ninafermetquinet@gmail.com