Webinar 05_Urban geosites for resilience: Case studies in Mexico City
Geoheritage for Geohazards Resilience presents his fifth webinar with a case studies in Mexico City
About this Event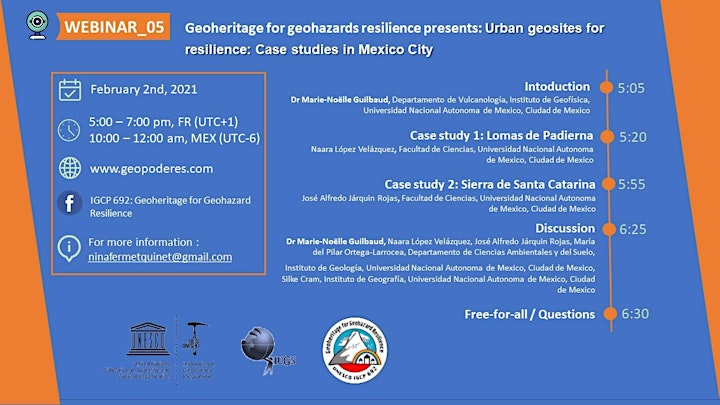 Learn more about Urban Geosites for Resilience!
• What is the fifth webinar about?
2 hours with several speakers . For this fifth webinar two students from UNAM Naara López Velázquez and José Alfredo Járquin Rojas have prepared a seminar on Urban geosites for resilience, they will presented two cases studies in Mexico city! They will be accompanied by Marie-Noëlle Guilbaud, María del Pilar Ortega-Larrocea, and Silke Cram respectively working at the Department of Vulcanology, Institute of Geophysics; The Department of Environmental and Soil Sciences, Institute of Geology and The Institute of Geography at Universidad Nacional Autonoma de Mexico, Mexico City.
Introduction abstract:
Geological and geomorphological elements in cities are usually fragmented, damaged and invisible to their inhabitants, despite the wide range of benefits they provide to them. In particular, they allow them to know their geological setting and be aware of associated risks. The gigantic capital city of Mexico is settled in a paleolake basin embedded in a diverse volcanic landscape that includes ancient and active volcanoes. City inhabitants, in particular the poorest and more vulnerable, face numerous hazards (floods, landslides, debris flows, subsidence, earthquakes, drought, fires), which derive into high risks that have both natural and antropogenic causes due to the uncontrolled city growth and socio-economic issues.
The geoheritage of the city is mostly formed by monogenetic (one-event) volcanoes that include the Xitle cone, the Sierra Santa Catarina cone chain, the Cerro La Estrella dome and the Sierra Chichinautzin range. All these landforms are an important resource for geoconservation and geoeducation. We present two case studies that were investigated by students near their homes, which was a strategy employed for virtual classes during the COVID-19 pandemic to allow them to undertake field work. They were instructed to observe the landscape around their place of living, looking for geological features of interest and reflecting about their benefits and hazards, as well as their link with biological and pedological elements, hence using geoheritage as a strategy for geoconservation, ecological rehabilitation and risk reduction.
Presentations will be recorded and uploaded on social networks. We invite you to participate in the live webinar and ask your questions directly to the speakers. A forum is available on geopoderes.com for future questions!
• What do I have to do to participate?
Easy, all you have to do is register for free on this event and an email will be sent to you with the Webex login link to access the online conference room!
• What is this project about?
The IGCP UNESCO project: Geoheritage for resilience to Geohazards is a global project that aims to improve the vital link between societal responses to natural hazards and the scientific response through geoheritage.
• Why a series of webinar?
Because they allow us to reach a larger audience, open interesting discussions and the aim of the project is to increase the resilience!
• More questions?
Questions related to the event can be sent to ninafermetquinet@gmail.com