Description
Le Festival du numérique de l'ouest

Le Web2day est le festival numérique de l'Ouest avec deux jours de conférences, de débats, d'animations ludiques et technophiles autour des usages du web et des innovations numériques qui font l'actualité.
En attendant la sortie officielle du programme, profitez des tarifs early birds (-50%) jusqu'au 15 février.
Pour cette cinquième édition nous vous réservons beaucoup de surprises. Nous parlerons Innovation média, Big Datas, Sustainable development, e-commerce, startup, design interactif... Surveillez les réseaux sociaux, nous vous dévoilerons tout au fur et à mesure !
web2day is a annual conferences & festival dedicated to the digital economy and innovating web actors that takes place in Nantes, May 16st & 17st, for its 5th edition.
First interactive Digital festival in west of France, web2day offers a unique convergence of conferences, panels, tradeshow and workshop about emergeging technologies during two days.
Enjoy early birds tickets (-50% of) until february 15th. Schedule will be revealed soon ! A lot of surprises are coming !
The 2013 web2day festival will feature two days of compelling presentation about sustainable development, interactif design, startups, datas...Join us for the most inspiring event of the year.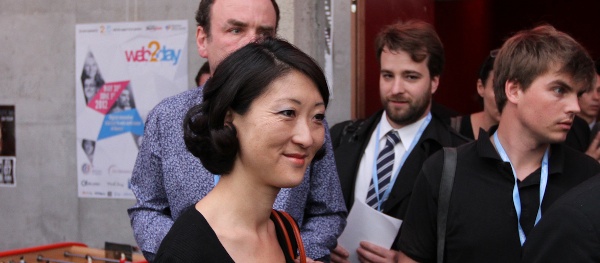 Un temps fort en 2012
L'édition 2012, la 4ème, a eu lieu début juin et a rassemblé plus de 800 personnes sur l'île de Nantes, à Stereolux, avec sur scène, 70 speakers, la ministre Fleur Pellerin, une vingtaine de rendez-vous sur les 2 jours, conférences, tables rondes, pitchs…
Plus de 1800 personnes ont suivi l'événement en streaming, et l'événement a envahi l'espace médiatique en ligne et hors ligne pendant les 2 jours.
The 2012 Web2day took place in june. More than 800 people enjoy two days of networking, tradeshow and conferences by 70 speakers about digital works. Minister Fleur Pellerin was there for her first official show up in France.
Organizer of Web2day 2013
Atlantic 2.0 est le réseau des acteurs du web et de l'innovation dans les Pays de la Loire. Nous fédérerons plus de 250 entreprises dans la région.
Les objectifs de l'association sont de développer et dynamiser la filière numérique et contribuer à son rayonnement.
Véritable accélérateur de projet, Atlantic 2.0 travaille en collaboration avec les acteurs économiques de la région, s'appuie sur une démarche collaborative et propose une programmation événementielle afin d'encourager les échanges et le tranfert de compétence.
Atlantic 2.0 is a non-profit organization composed by more than 250 companies working in the digital industry, in Nantes and Pays de la Loire Area. Our goal is to drive digital innovation and make its actors collaborate and grow together, by connecting people, organizing a lot of events, all-year long, and by a thinking collective.