9 weeks to connect and better understand the MusicTech industry and the world of VC's
About this event
🔥 The Wallifornia MusicTech program aims to support the most promising international MusicTech start-ups by helping them better understand how the MusicTech industry and the VC world operates.🔥
10 international start-ups will be selected to be part of the program. Teams will be individually coached by experienced entrepreneurs and music industry experts in order to set up a financial dossier and potentially raise funds by presenting their project in front of a panel of investors.
We are looking for startups with existing Monthly Recurrent Revenue (Seed, Early Stage or Series A) and active in 1 of these 4 fields:
Access
Fan Engagement
Value
Smart Venues
All sessions will take place online where a minimum of 2 hours of attendancy a day will be required (no session provided on Saturday and Sunday). Your commitment and active participation in the sessions and workshops (i.e. the one-on-ones dedicated to the art of pitching) will allow us to validate the possibility to present yourself on Demoday (taking place in person during Les Ardentes Festival).
As part of your selection, you will be invited, for free, to attend the Wallifornia MusicTech Summit. This international event, held in Liège, Belgium, ends the accelerator; 2 days of meetings, content and parties. The crème de la crème of the MusicTech industry will be present. This is an unique opportunity to meet in real life.
The Pitch Competition will also take place during this framework. So, it is a golden opportunity to go on stage and present your project in front of experts and investors. In addition to the 9 weeks of online acceleration, make sure you are available for 2 days in Belgium, from the 5th to 6th of July 2022. (The accelerator is free of charge and the summit is offered, but the travelling expenses are not included. Please consider this when validating your application).
To add a festive aspect to this apotheosis, the last day of the summit will coincide with the first day of Les Ardentes Festival... A dedicated space will be set up for us within the framework of this festival.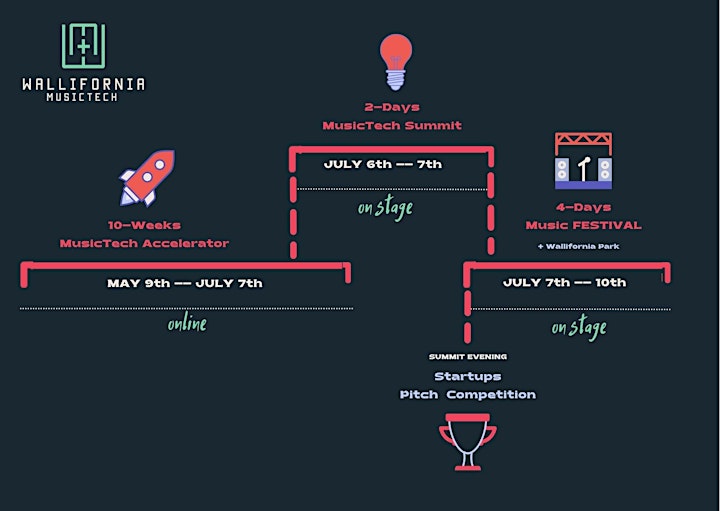 The 9-weeks ACCELERATION program will include several keynotes and workshops focused on :
Global MusicTech industry (global market, value chains, IP/rights...)
Entrepreneurship (sales & negotiations, customer traction B2B, fundraising & investors relations, growth hacking...)
Innovation (future of digtal music, blockchain, NFT, data...)
Communication (pitch, storytelling, brand & marketing, digital strategy, media training...)
Running from May 9th to July 7th, the 9 weeks of the acceleration will consist of:
Collective keynotes with experts
Collective workshops with experts
Industry meetups to interact, exchange and network with the Musictech Ecosystem
One-on-one sessions with your personal coach
Personalised mentorships with experts
Tools to develop a business plan
Free access @Wallifornia MusicTech Summit (from July 5th to July 6th, @Liège, Belgium)
On-stage presentations at the Pitch Competition, during the Summit
Informal get togethers with Music Industry Executives and VCs during the Summit
Deadline application : April 17th (one week added!)
To apply, you will have to answer some questions (name, stage, business target...) + and complete this file.
Announcement of the 10 selected startups : April 25th (or maybe earlier!)
This program is organized by LeanSquare, a VC fund based in Liège (Belgium), in partnership with Les Ardentes Festival, Universal Music Group and Proximus.
For further questions, please contact : info@walliforniamusictech.com
NOTE : We are organising a Q/A session on March 17th from 5-6 PM CET (Brussels time). If you are interested to join, it is mandatory to register by sending an email to: c.doyen@walliforniaventures.com (an email invitation and login link will be sent to you).
Universal Music Group  is participating in this acceleration program through its UMG Accelerator Engagement Network. Representatives from UMG will be hands on during the program and UMG executives may be assigned as on-going mentors to start-ups within the program. UMG, the world leader in music-based entertainment, is partnered with generalist accelerator programs throughout the world to assist in the evaluation, mentorship and development of innovative music start-ups. The UMG Accelerator Network is currently partnered with the APX by Axel Springer & Porsche (Berlin), NYC MediaLab (New York), Sparklabs (Seoul and Taipei), LeanSquare (Belgium), China Accelerator (Shanghai), Paris&Co's LINCC (Paris), Ryerson University's Music Den (Toronto) and the Melbourne Accelerator Program (Melbourne).