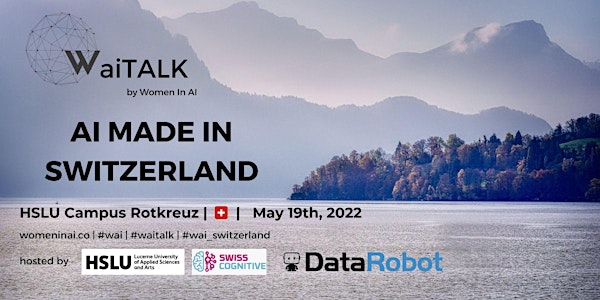 WAITalk: AI made in Switzerland
This event will bring together all people interested in AI made in Switzerland
When and where
Location
Hochschule Luzern – Informatik 1 Suurstoffi 6343 Rotkreuz ZG Switzerland
About this event
Women in AI Switzerland is collaborating with Lucerne University of Applied Sciences and Arts (HSLU) to bring together all people interested in AI made in Switzerland.
About this event
This event will showcase how various industries in Switzerland have transformed their organizations with the power of artificial intelligence (AI) and automated / complex technological systems. Our invited speakers share their unique and personal experience and acutal use cases how they work with AI and digital transformation. Our goals is to learn, inspire, educate and give various stakeholders in the audience plenty of opportunity to network and strengthen the local AI-eco system in Switzerland.
Program
We will host several speakers from different companies located in Switzerland and provide participants with plenty of opportunities to network.
17:30 - 18:00 Registration
18:00 Welcome notes
▶ Welcome Note by Women in AI Ambassador (CH) and Chief Research Officer Marisa Tschopp
▶ Welcome Note by Jeanetta Zotter Women in AI Industry Lead and Donnacha Daly (HSLU)
18:15 - 19:15 : Keynotes
▶ Emna Ben Khelifa, DataRobot: Components of successful AI strategy
▶ Kerstin Johansson Baker, Data Science Competence Center: Data Science and AI for Public Good
▶ Elena Maran, Modulus AG: The Upcoming EU AI Act
▶ Prisca Quadroni, AI-Legal Strategy Consulting: AI & Data Protection
19:15 - 20:00 Networking
20:00 - 21:15: Keynotes
▶ Rebeca Moreno, UNHCR: Humanitarian AI
▶ Gabriela Aznar, MeteoSwiss: AI & Weather Forecasting
▶ Ifigeneia Stefanidou,Landis+Gyr : Make the grid smarter
▶ Renu Ann Joseph, VIRTIDO : Learnings from startups in the AI space in Switzerland?
▶ Priska Burkard, Skills Finder: Recruiting is broken – can AI fix it?
21:15 - 22:00 Networking
We have a great catering with fine foods and drinks for you as well!
Details
The event is free and open for everyone to join. Register to secure your spot!
Looking forward to seeing you there!
Women in AI - Team Switzerland
Event Lead: Jeanetta Zotter
We believe in the power of our community, based on mutual support, caring, and sharing to bring awareness, inspire and educate next generations. Be a part of this powerful group of volunteers and actively change the role of women and minorities in AI.
WAI Switzerland Team