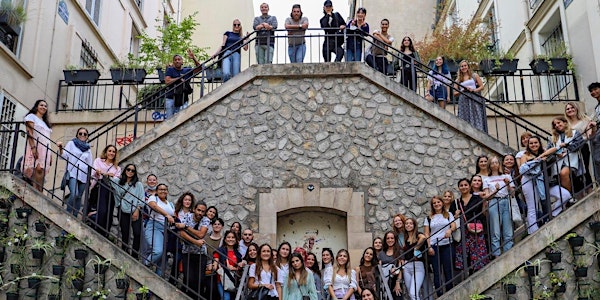 VISIT QUARTIER LATIN
Visit of the Latin Quartier for Erasmus students and internationals
When and where
Location
Censier-Daubenton Censier-Daubenton Censier-Daubenton 75005 Paris France
About this event
Partez en balade au cœur de Paris avec 𝐋𝐀 𝐕𝐎𝐘𝐀𝐆𝐄𝐑𝐈𝐄 𝐏𝐀𝐑𝐈𝐒𝐈𝐄𝐍𝐍𝐄,
🇫🇷 VERSION FRANÇAISE 🇫🇷
Ça vous dirait de visité le célèbre Quartier latin. Ancré dans l'histoire et la culture, ce quartier est le berceau de la ville telle que nous la connaissons aujourd'hui et a abrité plusieurs intellectuels et artistes parisiens.
Vous pourrez vous émerveiller devant l'une des plus célèbres cathédrales du monde avec Notre-Dame, en découvrant ce symbole de Paris qui se dresse là depuis près de 900 ans.
Vous découvrirez également la Mosquée de Paris, les Arènes de Lutèce, le Panthéon, la rue Mouffetard et le boulevard St Michel.
⁉️🆘 INFORMATIONS
La visite guidée est gratuite, mais l'inscription est obligatoire.
► RDV le 11 septembre à 16h, sortie 1 du métro ligne 7, Censier Daubenton.
⬇ Pour s'inscrire à la visite ⬇:
https://www.lavoyagerieparisienne.fr/220908visite-quartier-latin
➤Pour toutes infos/réservations n'hésite pas à contacter un conseiller de La Voyagerie Parisienne:
📞 06 50 21 99 40
📧 contact@lavoyagerieparisienne.fr
N'hésitez pas à consulter notre Instagram :
@La_Voyagerie_ Parisienne
____________________________
🇬🇧🇺🇸 ENGLISH VERSION 🇺🇸🇬🇧
How would you like to visit the famous Latin Quarter. Rooted in history and culture, this neighborhood is the cradle of the city as we know it today and has been home to many Parisian intellectuals and artists.
You will be able to marvel at one of the most famous cathedrals in the world with Notre-Dame, discovering this symbol of Paris that has stood there for nearly 900 years.
You will also discover the Mosque of Paris, the Arènes de Lutèce, the Pantheon, the rue Mouffetard and the boulevard St Michel.
⁉️🆘 INFORMATION
The guided tour is free, but registration is required.
► RDV on September 11th at 4pm, exit 1 of metro line 7, Censier Daubenton.
⬇ To register for the tour ⬇:
https://www.lavoyagerieparisienne.fr/220911-visit-quartier-latin
➤For all info/reservations don't hesitate to contact a La Voyagerie Parisienne consultant:
📞 06 50 21 99 40
📧 contact@lavoyagerieparisienne.fr
Don't hesitate to check out our Instagram :
@La_Voyagerie_ Parisienne