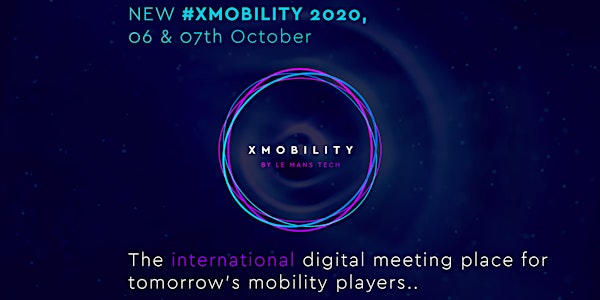 Virtual XMOBILITY 2020
LE MANS TECH welcomes you to the 3rd edition X-MOBILITY on October 06 & 07 2020 X-Mobility International Professional Event
About this event
LE MANS TECH welcomes you to the 3rd edition X-MOBILITY on October 06 & 07 October.
CONNECT YOU to swapcard on this link : https://app.swapcard.com/event/x-mobility-2020
X-Mobility International Professional Event in Le Mans, France imagined by Le MANS TECH.
Why and how are disruptive projects born and developed?
LE MANS METROPOLE is known to be a worlwide innovation laboratory with her famous racing car ' 24 hours of Le MANS' and before for new mobilities  such as the Wright Brothers for airplane or Amédée Bollée, the Car's father...That's why this is the great place to visit for genius projects as you imagine. 
What societal, environmental and economic impacts will these projects have on cities ? 
The X-MOBILITY meeting by LE MANS TECH meets the eyes of experts to share the axes of innovation of the future ! Conferences with international experts, debates, exhibitions, demonstrations and networking at the crossroads of vehicles, laboratories, design and new mobility on program.
Autonomous vehicles, alternative driving systems, multi-modalities, Sustainable cities or new business models, X-MOBILITY MANS is a meeting place in France for the global technology scene, new mobility providers and pioneers in the creation and development of design. 
The International Conferences are a unique opportunity to draw inspiration from leading experts. In 2020, X-MOBILITY will focus on design in new mobilities, artificial intelligence, multi-modal, prototypes and demonstrators, clean and sustainable energies, connectivity and automation, and  agile & sustainable cities. 
Discover solutions for tomorrow's mobility and meet the future mobility ecosystem: opinion leaders, entrepreneurs, policy makers, industry representatives, telecommunications, energy and mobility, as well as public transport, communities, start-ups, universities and gathered to share, exchange and invent the sustainable mobility of tomorrow. The exhibition area will showcase leaders, new actors and prototypes reinventing future mobility.
 Programm below ; For informations and tickets , visit www.xmobility.org 
Contact de l'organisateur : Magali Alix-Toupé / General manager LE MANS TECH /  hello@lemans.tech ou Antoine CHARON, LE MANS TECH President & Cofoundeur Sound To Sight. 
*************
LE MANS TECH vous accueille à  X-MOBILITY Le MANS en ligne le 06 et 07 Octobre .
Événement professionnel international  X-MOBILITY LE MANS, FRANCE imaginé par Le MANS TECH.
Pourquoi et comment naissent et se développent les projets de disruption ? 
Quels impacts societaux, environnementaux, économiques ces projets auront sur les villes demain ? 
Le rendez-vous X-MOBILITY by LE MANS TECH croise les regards d'experts pour partager les axes d'innovation actuels et du futur !
Conférences avec des experts internationaux , débats , expositions, démonstrations et networking au croisement des véhicules , des laboratoires , du design et des nouvelles mobilités.
**********************
Véhicules autonomes, systèmes de conduite alternatifs , multi-modalités, Villes durables ou nouveaux business model ,  X-MOBILITY Le MANS est un lieu de rencontre en France pour la scène technologique mondiale, les nouveaux fournisseurs de mobilité et les pionniers de la création et du design.
Les Conférences internationales sont une occasion unique de s'inspirer de grands experts. 
Découvrez des solutions pour la mobilité de demain et rencontrez l'écosystème de la mobilité future : des leaders d'opinion, des entrepreneurs , des décideurs , des représentants d'industries ,des télécommunications, de l'énergie et la mobilité, ainsi que de transports en commun, de collectivités, de start-ups, d'universités et rassemblés pour partager, échanger et inventer la mobilité durable de demain.
La zone d'exposition exposera des leaders, de nouveaux acteurs et des prototypes réinventant la mobilité future pour une ville du futur durable. 
Informations et Inscriptions sur :  www.xmobility.org .
Connection sur https://app.swapcard.com/event/x-mobility-2020
Contact de l'organisateur : Magali Alix-Toupé , Déléguée Générale LE MANS TECH /  hello@lemans.tech ou Antoine CHARON, Président LE MANS TECH et Cofondateur Sound To Sight 
**********************
Program :
Tuesday 06 October :
1.00 pm : PLateform opening
1.30 pm : Welcome Talk 
1.40 pm : Opening Keynote by David Carvalho , Senior Vice President Pininfarina 
2.10 pm : CONFERENCE  DISRUPTION "Futur of mobility" by Cyrille Roget, Scientific and Innovation Expert Michelin - France
2.40pm : Round Table DISRUPTION & Q/A
3.00 to 5.00 pm : NETWORKING (optionnal)
- - - - - - Wednesday 07 October :
9.00 - 12.00 am : Start up Challenge Marathon Pitch
10.00 - 11.00 am : Workshop "Agile & sustainable cities"
11.00 - 12.00 am : BATTLE Design Students - Ecole de design Nantes Atlantique  / Strate College / IAAD (sous réserve)
1.30 pm : Welcome Opening Day 2
1.35 Student Battle design Awards
1.45 pm : CONFERENCE IMPACT " From Odyssee to developpemnt) with Stéphanie THUMERELLE Director of External and International Relations Energy Observer. 
2.10 pm : Panel IMPACT with Questions & Answers Session
3.00 to 5.00 pm : NETWORKING (optionnal)