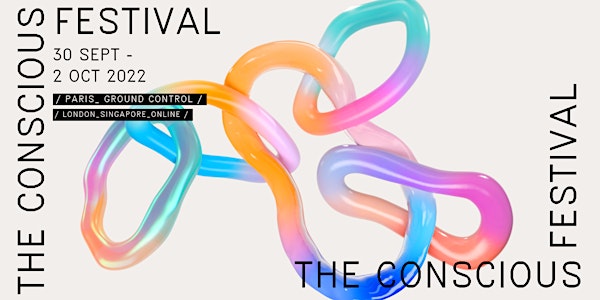 [VIRTUAL] The Conscious Festival 2022
Festival about sustainability, spirituality, regeneration - uniting talks, workshops and conscious brands to celebrate social entrepreneurs
About this event
THE CONSCIOUS FESTIVAL by Green Is The New Black, is going HYBRID for the second time! We will have a physical event in PARIS at GROUND CONTROL, our strategic and venue partner, and a virtual event for the rest of the WORLD, from September 30 - October 2, 2022.
**REGISTER HERE directly on Hopin**
❌💥 This is a holding page only. The free VIRTUAL experience will happen on Hopin. 💥❌
📩 GET IN TOUCH
If you have any questions drop us an email at holla@greenisthenewblack.com.
Check our website for the latest information.
FRIDAY 30
10:30 (FR time) - London pop-up - Josephine Philips, CEO of Sojo & Alexander Taylor, Industrial Designer & Feliw Winckler, Cofounder of Reflaunt & Wajahat Hussain, CEO of Biorestrore & Paul Loukes-Arellano, Founder of Circuthon
12:00 (FR time) - Introduction to the Conscious Leaders Bootcamp - Paula Miquelis, Conscious Festival
& Céline Dassonville, Ethiwork
12:15 (FR time) - Keynote: Leadership & Consciousness, the power of intention? - Gregory Pouy – Vlan! et Ping! podcast
12:30 (FR time) - Circular era : Can circularity save us ? - Sara Simmonds, Innovatrice conscious & Laetitia Vasseur, HOP! & Franck Aggeri, Chaire mines urbaines & Emma Carré, Pour un éveil ecologique & Caroline Neyron, Mouvement Impact France & Florentin Letissier, Adjoint à la Mairie de Paris
15:00 (FR time) - Deep dive into Fashion - Maxime Delavallée, Fédération de la Mode Circulaire & Joséphine Riemens, FHCM & Petronille Ricard, Etam & Damien Pommeret, Woolmark & Sophie Pignères, WeTurn & Christine Goulay, Pangaia & Laure Betsch, Fairly Made
17:00 (FR time) - How do media contribute to a virtuous circularity of information? with Quota Climat - Sebastian Marx, Comedian & Adam Forrai, Lierre & Quentin Perrier, High Climate Council & Magali Payen, Newstopia & Sophie Roland, Journaliste & Céline Puff Ardichvili, Look Sharp et l'Entrprise Contributive
SATURDAY 01
12:30 (FR time) - Keynote: Energy, Money and Business - Sara Simmonds, Conscious Innovator
13:00 (FR time) - Psycho-spirituality: a remedy for eco-anxiety, a resource for eco-warriors - Pierre Moniz-Barreto, Académie des Intelligences Humaines & Juliette Allais, Author & Psychotherapist
14:00 (FR time) - How to align with your life mission? - Elya Hasson, idohealing.com & Marion Seclin, Screenwriter & Actor & Romain Dian, Entrepreneur & Thomas Amiard, Therapist & Isabelle Layer, Journalist
15:30 (FR time) - Is Carbon neutrality a joke? - Emmanuelle Mary, Reprazent & Pierre Gilbert, Author & Activist & Paloma Moritz, Blast & Anne-Claire Voss, Journalist, Le Petit Journal & Hugo Meunier, Merci Raymond
16:25 (FR time) - New Narratives & Business Models to Regenerate the World - Awa Sagna, La Maison de l'Afrique & Christina Eckbert, Wildling & Ian Fellbom, Gogogreen & Benjamin Lanot, Eatic & Nada Bargachi, Vera app
17:30 (FR time) - Water: the blue gold - Jon Rose - Waves for Water
SUNDAY 02
12:30 (FR time) - Avant-premiere Screening : SLAY
14:10 (FR time) - Can leather be green? - Clémence Landeau, Smmmile & Rebecca Cappelli, Réalisatrice & Arnaud Brunois, Ecopel & Muriel Amal, One Voice & Emma Hakansson, Fashion Justice Collective
15:30 (FR time) - Tech & Web.3 for Good - Victor Tamer, BeInCrypto & Camille Guitteau, Bye Bye Plastic & Alejandra De Brunner, Ethos & Ariane Lambropoulos, YouWho
16:30 (FR time) - KEYNOTE: The disappointment of plastic recycling - Rosalie Mann - No More Plastic
16:45 (FR time) - Audrey Tcherkoff, Women's Forum & Rosalie Mann, No More Plastic
17:00 (FR time) - Storytelling & Conscious Brands - Liv Montuori, Livable Studio & Caroline Dumont, Ethichunt & Ségolène Giraudier, Panty's & Katia Sanchez, Designer & Jean Lorcy, Atelier Populaire