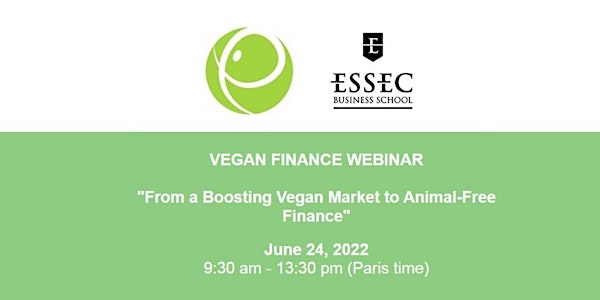 VEGAN FINANCE WEBINAR II
ESSEC VEGAN FINANCE WEBINAR II "From a boosting vegan market to animal-free finance"
About this event
The ESSEC Finance Department is delighted to invite you to the Second Vegan Finance Webinar that will take place on Friday, June 24, 2022.
We are witnessing an impressive increase in the global vegan market.
This market expects even stronger growth in the years to come.
It should not be forgotten that this vegan wave must support animal welfare, counter climate change, and contribute to the preservation of the environment. From a financial point of view, it is important to question the specificities of vegan business, and the range of financing solutions. Finally, and more than all, what are the reasons for the attraction of investors to vegan businesses and what are the expected returns on animal-free investments?
Program:
9:30 am: Welcoming participants & introduction by Véronique Buisson, ESSEC Professor of Finance and Webinar Organizer
10:00 am - 10:40 am: "Update on the Vegan Markets" - David Pannell, Vegan Business Tribe
10:40 am - 11:20 am: "Investments in the Vegan/plant based Market" - Nandini Roy Chaudhary, Future Markets Insights
11:20 am - 11:30 am: Digital Coffee Break
11:30 am - 12:10 pm: "Vegan Private Equity Activities and Entrepreneurship" - Sebastiano Cossia Castiglioni, Vegan Investor & Activist
12:10 pm - 12:50 pm: "The Ethical, Environmental and Economic Returns on Animal-free Investments" - Alexandra Clark, Sentient Ventures and Veg Capital & Manish Karani, Sentient Ventures and MVK Group
12:50 pm - 13:30 pm: "How do Vegan funds perform in comparison with other major indices?" - Claire Smith, Beyond Investing
13:30 pm: Conclusion/ End of the Webinar
We are looking forward to seeing you at the Webinar.
Véronique Buisson, ESSEC Professor of Finance and Webinar Organizer (https://vegphi.com/)
>> More information about the Webinar HERE <<