Sales Have Ended
Registrations are closed
Bonjour, Nous sommes désolé les inscriptions sont terminées. Bonne journée, L'équipe Pundarika France
Sales Have Ended
Registrations are closed
Bonjour, Nous sommes désolé les inscriptions sont terminées. Bonne journée, L'équipe Pundarika France
Description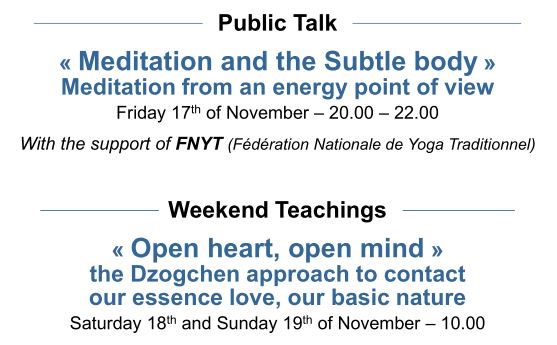 ---
Presentation
We are happy and honored to welcome the 3rd Tsoknyi Rinpoche, holder of the Drukpa Kagyü and Nyingma lineages, in the Tibetan Buddhist tradition. Since 1991 and all over the world, Tsoknyi Rinpoche has been teaching in the Dzogchen tradition, transmitting genuine ancient teachings in a modern way, in a direct and spontaneous style accessible to all, beginners as well as advanced practicioners.
During this weekend, he will explain what is the nature of mind, will clarify how to practice on the basis of the subtle body (channels of energy), and will guide us to rediscover the openness, fearlessness, and love that is the essence of our own nature. Short sessions of guided meditation will allow us to integrate the teaching.
---
Practical information
Teachings are given in English, translated into French
Public Talk : « Meditation and the Subtle body - Meditation from an energy point of view »
Friday 17th November : 20.00-22.00 Reception : 19.30
Participation : 15 €
Week-end Teachings : « Open heart, open mind – the Dzogchen approach to contact our essence love, our basic nature »
Saturday 18th of November : 10.00-12.30 / 15.00-17.30
Sunday 19th November : 10.00-12.30
Reception : 9.30
Participation : 60 €/week-end
Registration : Booking is required before the 10th November by using the link given in the e-mail. Before using this link, please read carefully the instructions, they will be useful to register.
The payment will be taken on the door, in euros.
The public talk and the week-end teachings are independent : it is possible to attend one or both of them.
Venue : Harry Cow, 13 Rue Sainte-Ursule, 31000 Toulouse (courtyard entrance)
Website : http://www.harrycow.com
Access :
Metro Line A Station : Capitole or Esquirol - Line B Station : Jean-Jaurès or Carmes
Bus Station : Esquirol – Parking Capitole or Esquirol (500 m) – Bike renting VélôToulouse : 10 m
By plane : airport « Toulouse-Blagnac » + shuttle or tram http://www.toulouse.aeroport.fr/
By train : Gare Matabiau (station) https://www.gares-sncf.com/fr/gare/frxyt/toulouse-matabiau
Plenty of accomodations and restaurants in the center of Toulouse
---
Inscription
Réservation required before 10th of november ; A contribution to the cost of organisation is asked to support the event
Contact : pundarikafrance@gmail.com