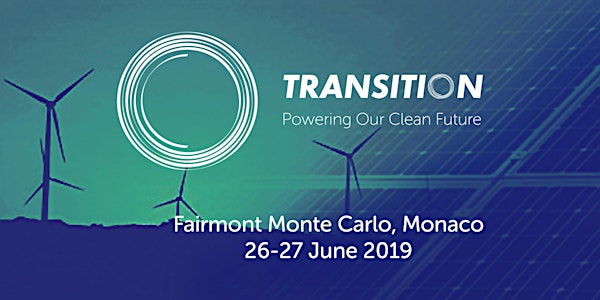 TRANSITION Forum
Transition Forum is dedicated to powering the transition to a clean and sustainable future.
Location
Monaco Fairmont Monte-Carlo 12 av. des Spélugues 98000 Monaco Monaco
Refund Policy
Refunds up to 7 days before event
About this event
We are engaged in a battle against climate change that we cannot afford to lose. WE MUST TAKE ACTION NOW to tackle the greatest challenge facing humankind before it's too late.
Join us for the second annual TRANSITION Forum at the Fairmont Monte Carlo in Monaco on 26 & 27 June 2019!
ABOUT TRANSITION FORUM:
Under the High Patronage of His Serene Highness Prince Albert II of Monaco, the Forum is an exclusive annual gathering of global influencers in business, government and civil society, investors, innovators and top researchers who share a commitment to a cleaner, greener future.
Our mission is to accelerate the shift to a low-carbon future by mobilizing a global community of stakeholders to catalyze concrete solutions for humans to prosper while preserving our planet.
2019 THEME:
Under the theme "Shifting Towards Sustainable Lifestyles", the 2019 Forum will focus on the societal impact of the ecological transition. Through discussions and debates, speakers and participants will examine how people and organizations across the planet are responding to climate change by shifting towards more sustainable and inclusive economic models and lifestyles.
Plenary discussions will focus on 4 key areas being transformed by the ecological transition: Food, Mobility, Housing, and Production & Consumption.
WHAT TO EXPECT:
• High-level insights and deep expertise from game changers in the clean ecosystem.
• Valuable encounters and inspiring exchanges with 300 participants from around the world.
• Contribute to combatting climate change and creating concrete solutions for a low-carbon future.
(The event will be conducted in English and in French)
For more information about our program and speakers, visit: www.transitionmonacoforum.com