TICKETS VIP GUESTS for the International Celebrity Awards Paris 2022
V.I.P TICKETS IF YOU LIKE TO COME AS GUEST to enjoy International Celebrity Award Paris Ceremony
About this event
Welcome to the first edition of
INTERNATIONAL CELEBRITY AWARDS PARIS
A Luxury Charity Gala, an alliance of haute couture, art, beauty and the power of business and Cinema, an annual international awards ceremony.
For this first edition, the MULTIFACE France association will be in the spotlight.
MULTIFACE France is an organisation under the 1901 law, which works to promote fair trade in fashion, beauty and creativity. Allow each talent to make a living from its art.
With the support of our Members, Partners and Brand Ambassadors, this Gala will take place at Au Pullman Hôtel Paris France, Sunday MAY 8TH, 2022, from 6 p.m. to 9 p.m., with 4 categories which include: business, philanthropy, entertainment, and Humanitarian. The nominees are selected by an independent live jury based on the nominee's biography.Paulette Mouquet is the President and Founder of the International Celebrity in Paris, France.
The 1st International Award will be on October 24th 2021 at Pullman Hotel Paris at 6PM
THE INTERNATIONAL CELEBRITY AWARDS PROGRAM:
I) HAUTE COUTURE FASHION SHOW
Bring visibility to luxury fashion designers and models and promote creativity, promoting the development of the style and the universe of luxury designers and models, who will become the actors of tomorrow's fashion, in a chic and warm
- Suits and other outfits for men
- Chic evening dresses and Glamour de Luxe outfits
- Bridal and glamorous lingerie
II) ARTISTIC SHOWS:
- Presence of national and international artists as well as several celebrities, guests of honor for a magical show:- Crazy Feet Steptanzschule danse, claquettes suisses, R-B, Par Angelo Borer
- International Singers
III) « International Celebrity Awards Ceremony in Paris »
Many Magazines will cover the show :
1) - HOLLYWOOD STAR IN PARIS Magazine,
2) -LUXURY READYLADY INTERNATIONAL Magazine
3) -HAUTE COUTURE INTERNATIONALE MAGAZINE
4) -HIGH FASHION MAGAZINE
5) -CELEBRITY WORD PARIS
Dress code color : GOLD & RED
Gentleman : Smoking Gold or Red,
Ladies : Long evening dress , Gold or Red
Contact:
asmultiface@gmail.com
Instagram : @international_celebrityparis
Telephone sent SMS: +33 754089324 24h/24h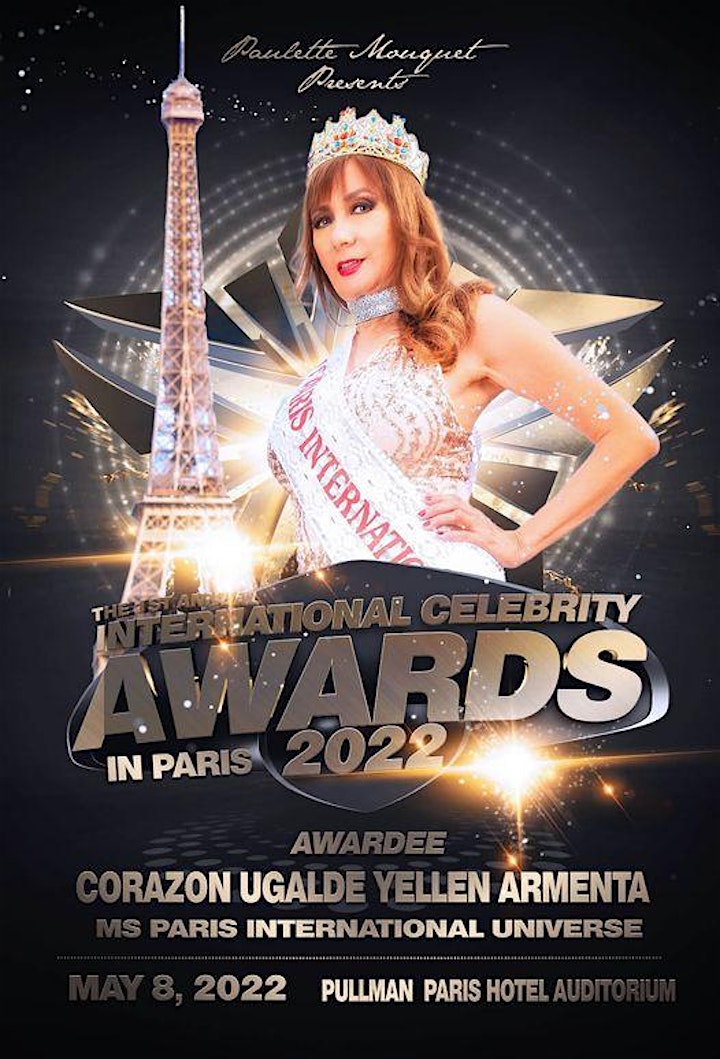 Organizer of TICKETS VIP GUESTS for the International Celebrity Awards Paris 2022