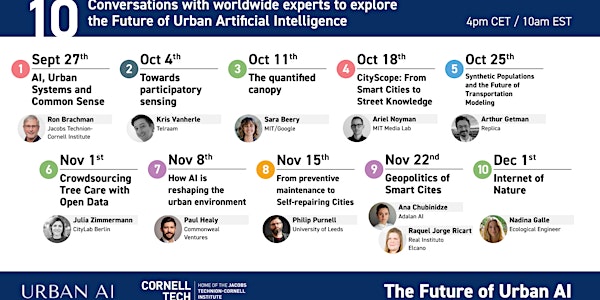 The Future of Urban AI
Every week, URBAN AI and The Jacobs Technion-Cornell Institute host a webinar to explore the future of Urban Artificial Intelligence.
About this event
How is AI transforming the urban environment? Can we create self-repairing cities? What is the Internet of Nature? Why are Synthetic Populations reshaping the future of Transportation Modeling?
To answer these questions (and many others !) we will interview and exchange with global pioneers in the emering field of Urban Artificial Intelligence (Urban AI).
They come from Berlin, Amsterdam or New York. They are architects, CEOs or researchers. But they all have in common that they imagine, design and develop the Urban AI of tomorrow.
____________________________________________________
PROGRAM:
September 27th : "AI, Urban Systems and Common Sense" with Ron Brachman (Director of the Jacobs Technion-Cornell Institute at Cornell Tech)
October 4th : "Toward participatory sensing" with Kris Vanherle (Co-founder at Telraam)
October 11th : "The Quantified Canopy" with Sara Beery (Assistant Professor at MIT, Visiting Faculty Researcher at Google)
October 18th : "Cityscope: from Smart Cities to Street Knowledge" with Ariel Noyman (Research Scientist at the MIT Media Lab)
October 25th : "Synthetic Populations and the Future of Transportation Modeling" with Arthur Getman (Senior Solutions Engineer at Replica)
November 1st : "Crowdsourcing Tree Care with Open Data" with Julia Zimmermann (Research Associate at CityLab Berlin)
November 8th: "How AI is reshaping the Urban Environment" with Paul Healy (Principal at Commonweal Ventures)
November 15th: "From preventive maintenance to Self-repairing Cities" with Philip Purnell (Professor at the School of Civil Engineering, University of Leeds (UoL))
November 22nd: "Geopolitics of Smart Cities" with Raquel Jorge and (Technology, Digital and Cyber Policy Analyst at Real Instituto Elcano" and Ana Chubinidze (CEO at AdalanAI)
December 1st: "Internet of Nature" with Nadina Galle (Ecological Engineer)
Where : On Zoom
Limited number of tickets
You can access all our program visuals with this link
____________________________________________________
About the Future of Urban AI
This project aims to explore a selection of trends and forecasts from Cornell Tech's Future of Urban Tech Horizon Scan.
____________________________________________________
About the Organizers
URBAN AI is a Think Tank that federates a multidisciplinary community and global ecosystem. Together, they propose ethical modes of governance and sustainable uses of Urban Artificial Intelligence.
The Jacobs Technion-Cornell Institute fosters radical experimentation at the intersection of research, education, and entrepreneurship. Established jointly by Cornell University and the Technion-Israel Institute of Technology, their mission is to transform key industries through technological innovation, deep-tech startups, and uniquely skilled talent.