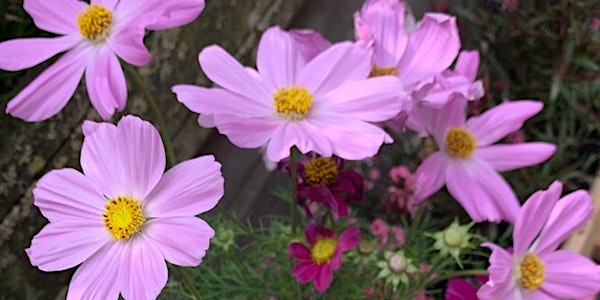 The Essence of Summer - to Balance and Harmonise the Seasonal Energies
Meditation, Qi Gong & Healing practices helping the flow, encouraging openness and well being through the changes and qualities of Summer
Refund Policy
Contact the organizer to request a refund.
Eventbrite's fee is nonrefundable.
About this event
The SUMMER WORKSHOP is here! When? Saturday 31 July 2021. Time: 9am-12pm CET (Paris), 8-11am Uk, 5-8pm Sydney
And the timing is perfect to offer yourself the possibility to reset & recreate balance in your life, paying attention to your needs & making space for self-nourishment.
Rupa and Chiara invite you to our latest SEASONAL WORKSHOP to support and nourish healing through the changes and new qualities that each Element brings, affecting our internal energies & personal health and wellbeing.
In Traditional Chinese Medicine Summer is associated with the Fire Element, and the Heart. As well, with the red colour and the emotion of joy, bringing a time of celebration & growth.
The Heart likes peace and calm and feelings of security to keep an even pace. However too much heat and excitement and the stress of modern life can overstimulate and stress the Heart. Imbalances can occur bringing a sense of feeling scattered, anxiety or unable to focus. There may be disturbances such as insomnia, restlessness, confusion and other emotional effects.
Join us for this upcoming inspiring Live & Online event to enhance Wellness, Healing and Meditation presented by Rupa Selecki & Chiara Cattaneo, AcuEnergetics® Practitioners, Teachers and Meditation Teachers. Long time friends and both experienced Healing Practitioners and Teachers of Wellness and Meditation, we love to share these beautiful practices with you.
During this workshop we use Meditation and Qi Gong practices, helping the flow, encouraging openness and well being. This also supports our immune system and helps clear emotional imbalances.
We welcome you 😊and we invite joy and well being.
When? Saturday 31 July 2021. Time: 9am-12pm CET (Paris), 8-11am Uk, 5-8pm Sydney
What will you experience?
Grounding techniques to help balance, strength and stability
Healing meditations for both mind and body with chakras - including unique AcuEnergetics® light body practices (inspired by ancient Kabbala practices, developed for modern day life)
Qigong using light movement and stillness to enhance your well being
Simple meditation practices and HEALING TOOLS that you'll be able to take away and practice anywhere and anytime helpful to calm the mind, benefit your general physical health, helping you reconnect mind and body
There will be a twenty minute Tea Break half way to meet online with a beautiful group of friends or simply rest
In this 3 hour workshop you will open to more love, let go of stress and you'll be inspired by beautiful modern & ancient ways of understanding of your body, heart and mind. You may be a beginner to meditation or be more experienced - either way we invite you to try this and feel the difference.
Investment: Summer workshop tickets 55€, early bird 45€ valid until Sunday 25 July. Please book early to confirm your place and receive the early bird discount.
Please note: Some of the QiGong practices may not be suitable if you're pregnant, please let us know, we'll take care.
We are always happy to give you more information. Contact us: Rupa rupa2@me.com and Chiara chiara.acuenergetics@gmail.com
🦋"Research has shown that Meditation can have a profound effect both physically and emotionally on managing stress and increasing resilience. Chemical changes are found to occur in the hormonal and nervous system during meditation which help to balance, restore and rest the system."
🦋"The Goldenflowerhealing Qi Gong exercises that we will practice help to still the mind, promote wellness and connect with the heart chakra. The practices are sourced from long time traditions where the body and the mind are understood to be in connection as one. They are designed to promote natural flow and help us relax as much as possible in stressful circumstances and to maintain general health and well being."
😊 Rupa is a qualified AcuEnergetics® Practitioner, Teacher and Meditation Teacher, & Qi Gong Teacher. As well she has many years clinical experience using Acupuncture and Qi Gong healing. She practices now in Amsterdam & teaches healing and meditation workshops in Europe
www.goldenflowerhealing.com
https://www.instagram.com/goldenflowerhealing/
😊 Chiara is a qualified AcuEnergetics® Practitioner, Teacher and Meditation Teacher. She has always been passionate about working with people, personal development, healing, self-discovery and meditation. She nowadays works in Saint Tropez and travels in Europe teaching and healing
www.acu-wellness-st-tropez.com/start-here/
https://www.instagram.com/acu_wellness_st_tropez/
We look forward to you joining us for this enjoyable experience ❤️