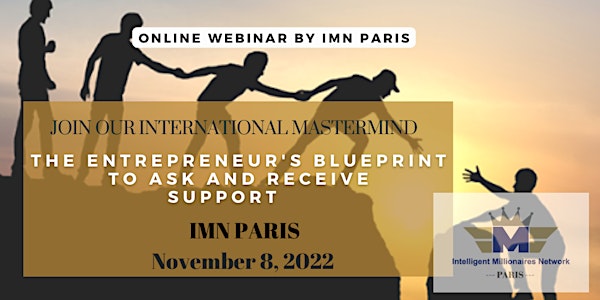 The entrepreneur's blueprint to ask and receive support
Being the person that always takes care of everything, as entrepreneurs we might not know, when in turn, we need a helping hand.
About this event
No matter if you are just starting as an entrepreneur or you have a successful business already, there are some beliefs that you have picked up along the way. One of them is that once you assume the role of managing your own business, you have to get through on your own and that the business takes priority over your wellbeing. All for the business, he?
In the moment when we take the time to reflect on our business, responsibilities and challenges, we might get to a few questions that can improve our point of view. And the main one being that our first priority should be considering asking and receiving all the help we can get.
But we don't mean asking for support to grow the business, we are talking about support for you as an individual first, that is in search of better and healthier solutions for his lifestyle.
If someone tells you, that they have a magic wand and they can solve your business problems, how long it would take you to identify those areas where you know you could use help? Our guess is that your answer will come pretty fast.
Take away the possibility of the magic wand, the issues are still there so why we could not think to ask for help with those?
Clarity, intention, no guilt or feeling of powerlessness, some of the keys that will guide anyone to correctly identify what kind of help or support they are looking for.
When we decide to become entrepreneurs, we must acknowledge that we are responsible for every aspect of our business and of US in relation with our business.
We will be LIVE on Zoom and available for Q&A at the end of the presentation.
***************************
As a premium business club based in Paris, we focus on giving the tools, support, and the right connections to the business owners that are action and value-oriented.
Every second Tuesday of every month, 6.30 PM Paris time, we are organising interactive Mastermind Webinars, which are proving to be already value-added for our Members. Evidence is the loudest voice so we well let you discover the benefits of our masterminds, inspired by real challenges and questions coming from entrepreneurs.
IMPORTANT
This event is taking place online and an access code is required in order to log in on the Zoom platform.
You will receive the access link, by email, at the latest 1 hour before the event is scheduled to start.
-----------------------------------------------------------
*** **Past Events by IMN Paris
September 13 - Mastermind "Break free from myths and old beliefs"
June 14 - Mastermind "Your client list: How to build, improve and grow it"
May 10 - Mastermind "Entrepreneurship 101: Your business worth vs Your fees"
-----------------------------------------------------------
Connect with us on Social Media
#Facebook https://www.facebook.com/IMN-PARIS-1008310126028222
#Instagram https://www.instagram.com/imnparis
#twitter https://www.twitter.com/ImnParis
*** **IMN Paris Podcast - A new episode every Monday
https://anchor.fm/grownow