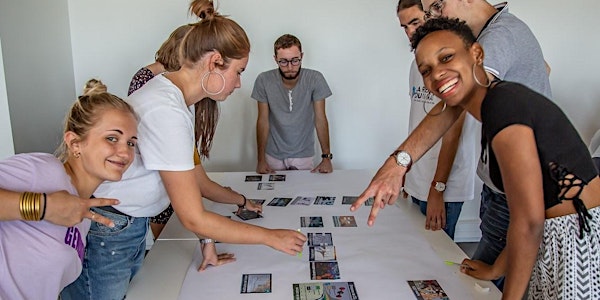 The Climate Fresk in the Commonroom (Vienna)
Climate education meets teambuilding: 42 cards to understand climate change. Test, deepen or share your knowledge!
When and where
Location
commonroom 54/7 Florianigasse 1080 Wien Austria
About this event
[German below]
Join us for our interactive workshop to boost your climate literacy and connect with new people!
The Climate Fresk is three things:
an educational tool ("Serious Game")
an NGO based in France
and an international volunteer movement.
Our tool is a trigger for transformation and empowers participants to become informed and engaged advocats for a sustainable future.
That's how the game works:
The workshop is based on a 42-card game. Each card represents an element, a cause or a consequence of climate change. As a team, guided by your facilitator, you are to find the cause-effect relationship between the different components of climate change. Collective intelligence will get you from one deck of cards to the next!
👉 On the agenda:
A very brief history of The Climate Fresk (5min)
Icebreaker (10 min)
Building the Climate Fresk (90 min)
Letting it sink (15 min)
Sharing and solution-oriented discussion (60 min)
Duration: (absolutely worthwhile) three hours
Costs: The workshop is for free. If you would like to support our local community, you can donate a little something in the end of our workshop. (No pressure though). Every cent would go right into the project, e.g. paying the rent for the lovely room where the workshops takes place.
Location: We are waiting for you in the Commonroom in Florianigasse 54, 1080 Vienna. It is a very special place: An open platform for artists, creatives, children and adults. We come together to share our know-how and our passion for and through different creative mediums. (It is also a café! You can order yummy food and drinks!)
✅ LANGUAGE: We can host the workshop in English, German or French. Please let us know your preference when booking your ticket! :)
The Climate Fresk - A sneak peek:
Based on the UN backed and Nobel Peace Prize award winning IPCC report, it explains how the climate functions and the consequences of its disruption. It gives the opportunity to learn a lot in a very short period of time and addresses both novices and experts.
Feeling inspired and empowered, many participants become facilitators themselves and that's how a worldwide community emerged. Today, we have local Climate Fresk Hubs in 50 countries and have translated the workshop into 30 + languages.
The Vienna-based offspring is called: Das Klima Puzzle.
*** DEUTSCH ***
Klimabildung trifft Teambuilding: ein kollaborativer Workshop zur Klimakrise. Testet, vertieft und teilt euer Klimawissen! 🤌
👉 Der WORKSHOP: Ein "Serious Game", das auf den Berichten des IPCC (Weltklimarat) basiert und die wichtigsten Infos daraus auf 42 Spielkarten aufschlüsselt. Unser Bottom-Up-Ansatz fördert kritisches, interdisziplinäres Denken, kurbelt den Teamgeist an und gibt Raum für einen offenen Dialog und eine lösungsorientierte Diskussion.
Die SCHOKOLADENSEITEN - kurz und knackig:
Empowerment: Wissen führt zu Partizipation
Teambuilding mit nachhaltigem Impact
Open Source: das Tool selbst aneignen und anwenden
Community: Teil unserer lokalen Klima Puzzle Crew werden
Vernetzung der Teilnehmer*innen durch die gemeinsame Lernerfahrung
👉 Dauer: 3 Stunden. Kurzweilig und spannend, versprochen! :)
Wir sind bereits 10.000 Klima Puzzler*innen weltweit, die Workshops in 35 Sprachen in über 50 Ländern organisieren. Nach Teilnahme am Workshop könnt ihr selbst Klima Puzzler*in werden und so effektiv Klimabewusstsein schaffen & eure Mitmenschen inspirieren. #gemeinsamklimaschutzaktiv
Habt ihr Fragen? Meldet euch gerne bei uns: dasklimapuzzle@posteo.at
Folgt unserer Reise auf Facebook and Instagram! :) Unsere internationale Website findet ihr hier.