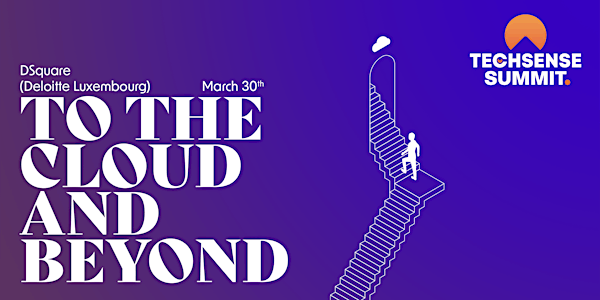 TechSense Summit "To the Cloud and beyond"
A gathering of 150 CIOs and tech decision makers, to offer them the opportunity to connect together and exchange about the cloud computing.
When and where
Location
D.Square Deloitte 20 Boulevard de Kockelscheuer 1821 Luxembourg Luxembourg
About this event
The cloud became one of the biggest technological winners in the last two years. With the sanitary crisis, it proved to be both an easily accessible all-purpose platform that enables rapid deployments and a well-established standard that gives flexibility and cost savings. And with a continued importance of cloud services in almost all business operations, there is no doubt that the cloud is the future.
In this tremendous digital landscape of varied and dynamic architectures, new cloud-native trends will continue to emerge.
TechSense invites you to find out more about the top cloud trends that will help you drive growth, scale digitalization, and act as force multipliers to propel your organization forward during the TechSense Summit "To the Cloud and Beyond" that will be held on March 30, 2022 at DSquare, Deloitte's main building in Luxembourg City.
PROGRAM
VIP SESSION (upon invitation)
12:30pm: Welcome Drink
01:00pm: VIP Lunch
02:00pm: Dessert buffet at Greenhouse
02:30pm: Workshops session
- "How multi-cloud is impacting IT landscapes and how IT governance has never been more difficult", Audric Lhoas, Cloud product manager, Telindus
- "How to deliver prescriptive operations in complex ecosystems with AIOPS ", Vassilios Kakarakis, Cloud strategist, Kyndryl
- "Cloud Strategy ? Why Connectivity & Security matter", Luc Halbardier, Chef de Service Presales and Business Development, POST Telecom
PLENARY SESSION
03:30pm: Doors opening
04:15pm: "Welcome Words" Ronan Vander Elst, Deloitte Luxembourg
04:25pm: Cloud inspiration session, Jean-Pierre Le Goaller, Head of Technology, AWS (Benelux)
Cloud Transformation Client Stories
04:45pm: Introduction, Sebastien Genco, Deloitte Luxembourg
04:50: "How Cloud enables the fast building of software products and services in the healthcare sector", Philipp Jäggi, CIO of Laboratoires Réunis
05:00 pm: "Cloud-enabled rapid development in the financial sector", Laurent Pulinckx, CIO of Bourse de Luxembourg with Candi Carrera, Country Manager, Microsoft Luxembourg
05:20 pm: "Lalux : Cloud-ready Infrastructure approach", Vincent Arnal, CIO of LALUX with Julien Varela, Cloud Architect of Nutanix & Dario Wiser, Director EMEA of Oracle
05:45 pm: "Innovating New Normal", Olivier Vansteelandt, CIO of AXA, with Gianni Cooreman, Director Industry Solution Advisors & Deputy Country Leader (BeLux) of Salesforce
06:10pm: Wrap-up Round table, Sebastien Genco, Deloitte Luxembourg
06:30pm: Closing speech
06:35pm: Networking cocktail
Grab your ticket now!
For more information, contact info@techsense.lu