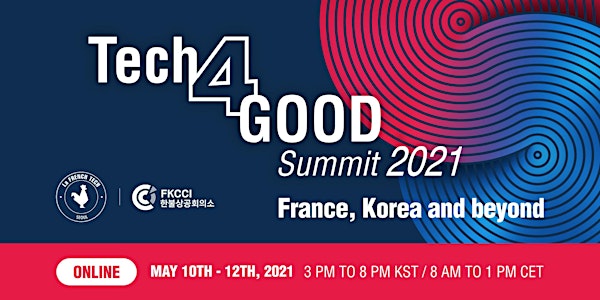 Tech4Good Summit 2021 - Korea, France and Beyond
Tech4Good Summit 2021 - France, Korea and beyond
About this event
Innovate for a better tomorrow at the 'Tech4Good Summit 2021- France, Korea and beyond', dedicated to boosting startup ecosystems for society and earth!
Following the success of the 2019 edition, French Tech Community Seoul and the French-Korean Chamber of Commerce and Industry (FKCCI) get together again to organize the 2nd opus of the Tech4Good Summit, from May 10th to 12th, 2021.
This time again, Korea and France are moving together toward the same goal: Tech4Good, by connecting people, businesses, and partners who share the same vision for technology serving for a better future and who believe in international cooperation. This year, we are going international by bringing together global partners and startups all over the world.
WHAT FOR?
Recent emergent technology innovations gave unprecedented opportunities to shape a better world and solve social, economic, and environmental challenges. Our world is hit by an unprecedented global pandemic that will have lasting social and economic consequences. That is why innovation and global cooperation are now even more crucial. Both French and South Korean governments understood the importance of these challenges by releasing ambitious New Deal recovery plans that will support organizations and startups that use technology to create a positive impact.
This year, Tech4Good's mission is to highlight even more that impactful solutions and global cooperation have become a priority!
FOR WHOM?
Any impact startup, incubator, accelerator, large group, institution, and non-profit seeking to develop, commercialize or support technological solutions for a more inclusive society and a sustainable environment. Anyone interested in the Tech4Good trends is also welcome to attend!
AGENDA & FORMAT
Over three days of a rich program, we will deal with major topics among Tech4Society (equality, diversity, education, health) and Tech4Earth (climate, environment, energy, transport) sectors, with round-tables and keynotes. We will also offer sessions on the ecosystem to support Tech4Good solutions and transversal sessions on public policies.
The event will also provide:
Private meeting and networking to meet potential partners
A pitch contest to reward most promising start-ups
A virtual exhibition space