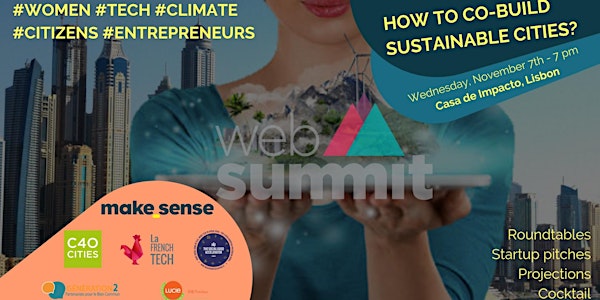 Tech for Impact: focus on Sustainable cities - by makesense, C40, SOGA & French Tech
When and where
Location
Lisbon R. de São Pedro de Alcântara 85, 1200-089 Lisboa Lisbon Portugal
Description
70% of carbon emission comes from cities in four main areas: Waste, Energy, Mobility and Buildings.
At a time when national governments struggle to take the lead on climate change, we can ALL part of the solution!
_impact-driven innovators pave the way and leverage technologies to create sustainable solutions to fight against climate change
_mayors and cities take action and commit to support those solutions
_companies take on their role to collaborate with their ecosystem and transform their activities.
On November 7th in Lisbon during the WEB SUMMIT, we will bring together citizens, tech-social entrepreneurs, non-profits, corporates and policy-makers who work together to fight climate change in cities, using technologies and civic engagement to reach their goals.

Agenda :
_7pm: welcoming
_7:30 - 9pm: event
- Describing the issue : "How can we leverage on technology and civic engagement to build more sustainable cities" an Interactive Roundtable with 4 leading women social entrepreneurs, corporates and policy makers acting at city level.
- Inspiration : Preview of makesense short documentary on Social entrepreneurs working on climate solutions
- Action - Smallgroup sessions on topics of waste, buildings, energy and mobility to build collaborations
Speakers to be announced.
_From 9pm: cokctail
Partners of the event:
makesense is a global, people-powered community that supports engaged citizens, passionate entrepreneurs and forward-looking organizations to collectively tackle social issues. ==> www.makesense.org
C40 is a network of the world's megacities committed to addressing climate change. C40 supports cities to collaborate effectively, share knowledge and drive meaningful, measurable and sustainable action on climate change. ==> www.c40.org
Social Good Accelerator is a European Think & Do Tank working together to create a more inclusive digital economy and society in Europe. Our passion: More tech in social good, more social good in tech. ==> http://socialgoodaccelerator.eu
French Tech is a movement for entrepreneurs, by entrepreneurs and backed by the French Tech Initiative, an innovative public policy created by the French Government in 2013. The French Tech Initiative is boosting this collective dynamic, and its actions have taken part in establishing this ecosystem within the French economic landscape. ==> www.lafrenchtech.com